Indie Lens Pop-Up: The Providers
Set against the backdrop of the physician shortage and opioid epidemic in rural America,
The Providers
follows three healthcare providers in northern New Mexico - a doctor, a nurse practitioner, and a physician assistant. They work at El Centro, a group of safety-net clinics that offer care to all who walk through the doors, regardless of ability to pay.
Amidst personal struggles that reflect those of their patients, the journeys of the providers unfold as they work to reach rural Americans who would otherwise be left out of the healthcare system. With intimate access, the documentary shows the transformative power of providers' relationships with marginalized patients.
MontanaPBS is proud to partner with Independent Lens and ITVS to bring this free neighborhood pop-up documentary to the Bozeman community. We look forward to seeing you on March 11th!

Screening information:
WHEN | March 11, 2019 from 5pm to 7pm

WHERE | Procrastinator Theater (Located in the MSU Student Union Building)

DETAILS | Doors open at 5PM | Film starts at 5:30PM

| Parking is free on campus after 6pm
View trailer for The Providers here.
---
---
StoryCorps: Student Interviews
We recorded StoryCorps interviews with two MSU students studying in the medical field. Sophie King and Mac Turner separately sat down with us for a short chat. Hear what inspired them to enter medicine, and how these students see the impacts of rural healthcare around them.
StoryCorps
is a non-profit organization dedicated to preserving humanity's stories. It facilitates the recording and preserving of interview-style podcasts, and publicly archives them for all to access.
---
Rural Healthcare Resources

In Montana, 54/56 counties are designated Primary Care Health Professional Shortage Areas. Accessing quality healthcare starts with the awareness of existing resources. This holds particularly true in our most rural counties, as they are more difficult to find available care compared to an urbanized area. The following section links to authoritative sources of rural healthcare information, segmented by topic.
Health & Well-Being Resources

The Montana Office of Rural Health maintains an ongoing archive of health and wellness resources by county. This list is updated with user input from those living within the county. Resources are further subdivided to target needs for specific groups of people. Some resources include:
Medical Resources
Food Services
Child & Family
Mental Health Resources
Chemical Dependency
Veteran's Resources
Click here to view the complete list in your county
Primary Physicians
Most counties in Montana are designated as under-served and have primary care physician shortages. To respond to this, the government has partially subsidized clinics, hospitals, and health centers. Counties under the most pressure have seen the best responses to this initiative.
The following map from RHIhub details these rural facilities. If you live in a rural Montana, these providers are designed to provider better access to healthcare.
Click here to learn more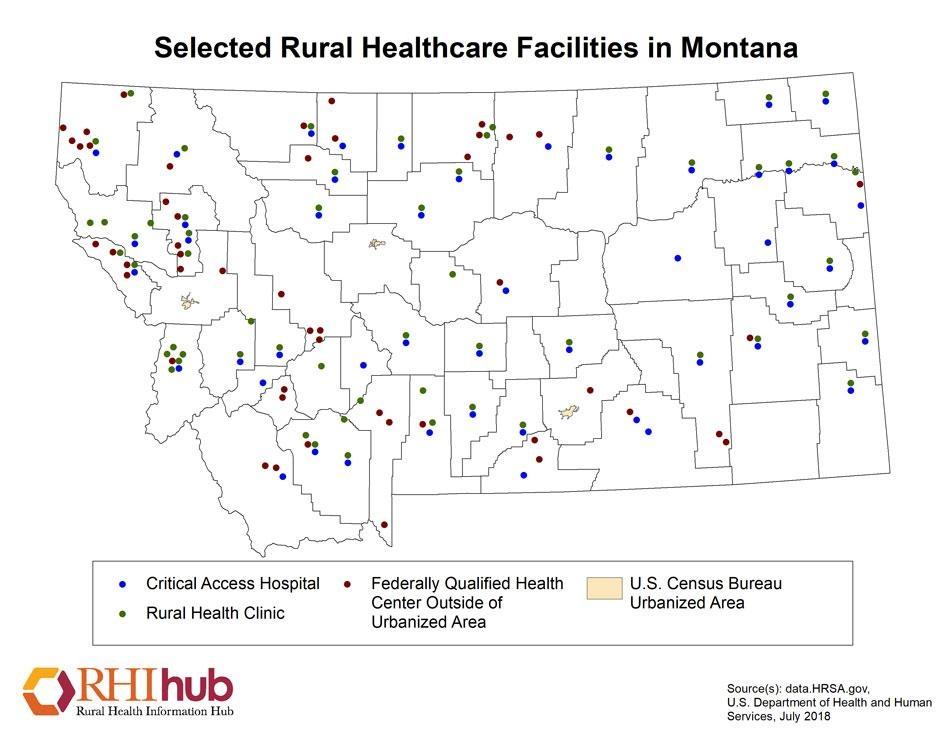 Medicaid & Healthy Montana Kids
Understanding and navigating Montana Medicaid and Healthy Montana Kids is very important in receiving effective healthcare as a member. The Montana DPHHS Member's Guide is a comprehensive resource. It stays up to date with new policies and procedures, and details information such as choosing a provider, your rights, benefits coverage, appeals, and more. General questions such as the following are addressed: 
Do I qualify for a Medicaid Passport provider?
What are the spending limitations on my benefits?
What kinds of services are covered under my plan?
With an intuitive interface, this guide is useful to begin learning about Montana Medicaid and Healthy Montana Kids, and is a valuable resource to return to with future questions. 
Development in Rural Healthcare
The Montana Healthcare Workforce Statewide Strategic Plan outlines specific goals in Montana rural healthcare development, and what actions we are taking to get there. This gives a projection of how under-served communities will be further aided in the future.
Individual healthcare professions are separately spotlighted in the plan. Physician shortages are a primary concern in Montana counties, and this section is detailed extensively. To further reduce physician shortages, the strategic plan lays out several fundamental steps it plans to continue: 
WWAMI* allowances increased by 50%, now permitting 30 Montana medical students annually. Higher numbers mean more physicians will eventually practice in Montana.
10/30 WWAMI students participate in a program focused on rural and under-served care. This intense focus on rural care ensures physicians go where they are needed most.
Increases from 50 (in 2014) to 78 (in 2017) residencies available in Montana family medicine curriculums. Around 50% of those who practice family medicine are in rural areas.
With increases in Montana medical students and rural healthcare tracks, under-served areas are on a road to increased coverage moving forward.
Click here to view the Montana Healthcare Workforce Statewide Strategic Plan
* WAAMI is an affiliation between several medical schools in the Northwest. This relationship allows Montana students to attend medical school elsewhere, as Montana does not have an independent medical school.