Mission
Quality television has the power to elevate our understanding of the world, encourage respect for one another, and influence our lives in a positive way. Montana PBS shares diverse stories; connects our citizens; discovers common ground; and celebrates the independent spirit and beauty of Montana.
Vision
Montana PBS will provide all Montanans with local, public television that is fully supported by the citizens, businesses, foundations and public representatives of this state.
Montana PBS will broadcast programs that educate our people; that discuss current issues and reveal our history; that satisfy our curiosity, our musical ear, our artistic eye and even our sense of humor; and ultimately present programs that respect our intelligence.
Montana PBS will connect the residents of this state to each other, to their country and their world through the use of broadcast television, the internet and community outreach projects. We will be an electronic town square that encourages the sharing of ideas, opinions and information.
Montana PBS will choose programs based on community impact and will engage in services that echo the independent spirit and neighborly concern that is the hallmark of our state.
Values
Honesty: All that we do must be with integrity and fairness, whether we are choosing programs to air; communicating with our viewers, members and citizens; or working with our colleagues and volunteers.
Unity: Our programs and outreach services should unite us to each other and to the world around us, all the while respecting our differences and celebrating our uniqueness.
Tolerance: By offering a window into the world of people next door as well as worlds away, Montana PBS encourages tolerance and respect.
Citizenship: Montana PBS seeks to build a strong community of citizens who are able to make educated, informed choices for their state and their world. We encourage involvement in civic life and respect the values of our democratic society.
Accountability: Montana PBS will always take ownership of the choices made by the staff and volunteers, and will use its mission, vision and values to inform all decisions. Donors and viewers have the right to know about the station's goals, structure and activities.
Independence: By serving as a local, independent voice that is beholden to the citizens of Montana and not outside influences, Montana PBS can focus on making a difference in our state.
Impact: Our programs will be measured by the positive impact they have on our citizens and not by the supporting revenue they generate. The feedback of our viewers and members will inform our choices for programming and outreach.
A Statewide Service
Telecommunications Inc. (TCI), a former cable television provider for much of Montana, was a very supportive partner in the development and success of KUSM. TCI invited KUSM to be part of the Montana cable system in 1987 by replacing KUED in communities located in the eastern and central part of the state. TCI, KUSM and KUED agreed to a three-year phase out of the Salt Lake City service in favor of the Montana based service from KUSM. KUED manager, Fred Esplin, noted at the time that with growth in Montana's own public television service, it was no longer appropriate for KUED to import its signal to the state. He was not only a willing partner in the KUED phase out, but also provided considerable assistance in the successful evolution of KUSM. Access to Montana cabled communities through TCI increased KUSM's viewer base by over 200,000 people.
Montana PBS' history of community, grass-roots support, cooperation, and development have created the public and educational television service whose only mission is to serve the great state of Montana.
Friends of Montana PBS
The Friends Of Montana PBS supports Montana PBS through advocacy, community engagement and fundraising.
The Beginning:
A desire for quality programming
On October 1, 1984 viewers in the Gallatin Valley experienced the first over-the-air signal from KUSM-TV. MSU had received permission from the FCC, The Montana Board of Regents, and The Public Broadcasting Service (PBS) to rebroadcast the KUED, Salt Lake City signal as its primary programming source.

This first service was a response to a citizens group representing the growing non-cabled area surrounding Bozeman. They asked if MSU could find a way to combine the promised gift of a transmitter and antenna from a commercial broadcaster (Joe Sample) with their need for quality childrens' programming.
A Unique Early Relationship: KUED/KUSM
There were no financial resources available to operate a traditional public television station at MSU in 1984. It was clear that such a service would have to begin as a self supporting operation. The viewer base in the Bozeman area certainly could not support the cost of a full service PBS station.

Through necessity KUSM negotiated with PBS and KUED-TV, Salt Lake City, for the rights to rebroadcast the Salt Lake signal entering Montana through TCI Cable. A sister station relationship was agreed upon by all parties. This allowed KUSM to operate at minimal costs for its first three years of operation. In that period of time KUSM was able to train its staff and develop the financial support to become a full service station.

Thank you, KUED!
Montana State University & University of Montana
Montana PBS is comprised of KUSM-TV Bozeman and KUFM-TV Missoula, each a non-commercial educational licensee of Montana State University - Bozeman and The University of Montana - Missoula, respectively.

Montana PBS works with both campuses to provide educational opportunities for students and their communities.




Thank you to Tom Murphy for select Yellowstone cinematography and John Floridis for writing and performing select Music beds appearing in Montana PBS branded elements.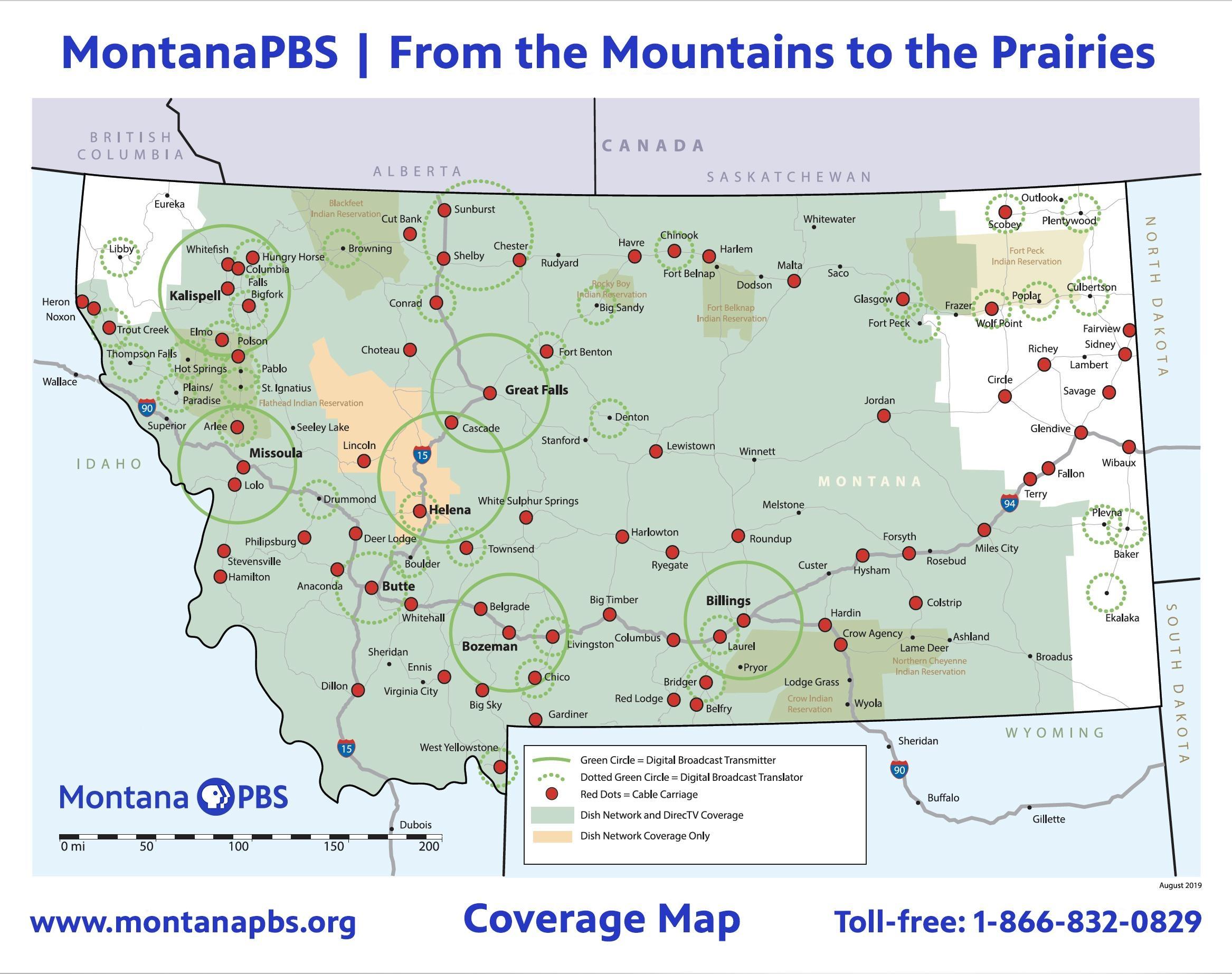 MSU/UM Payroll Deductions
If you are a member of MSU or UM's faculty/staff you have the option of supporting Montana PBS by having your contribution deducted directly from your paycheck. This option is simple and convenient for you. Contact a Montana PBS membership representative at 1-800-426-8243 and let them know you would like to donate to Montana PBS through payroll deductions. A University form will be sent to you to fill out and drop off at your respective University's payroll department.
If you have specific payroll deduction questions please contact your University payroll department:
For MSU: call 406.994.3651
For UM: call 406.243.6766