Broadcast Area Map
To locate your broadcast area, enter your zip code in the search box. Select the station icon nearest you for a list of local channels.
Fall 2018 | Time to Rescan
Many broadcast TV stations across Montana are moving to new frequencies this fall. If you watch television using an over-the-air antenna, it is a good idea to perform the channel rescan function on your TV. This is especially important if you have noticed a channel that has gone away from your normal lineup. For MontanaPBS viewers in the Butte, Whitehall, and Anaconda, we expect to transition our channel in late October. To learn more about television stations moving to new frequencies, visit www.tvanswers.org.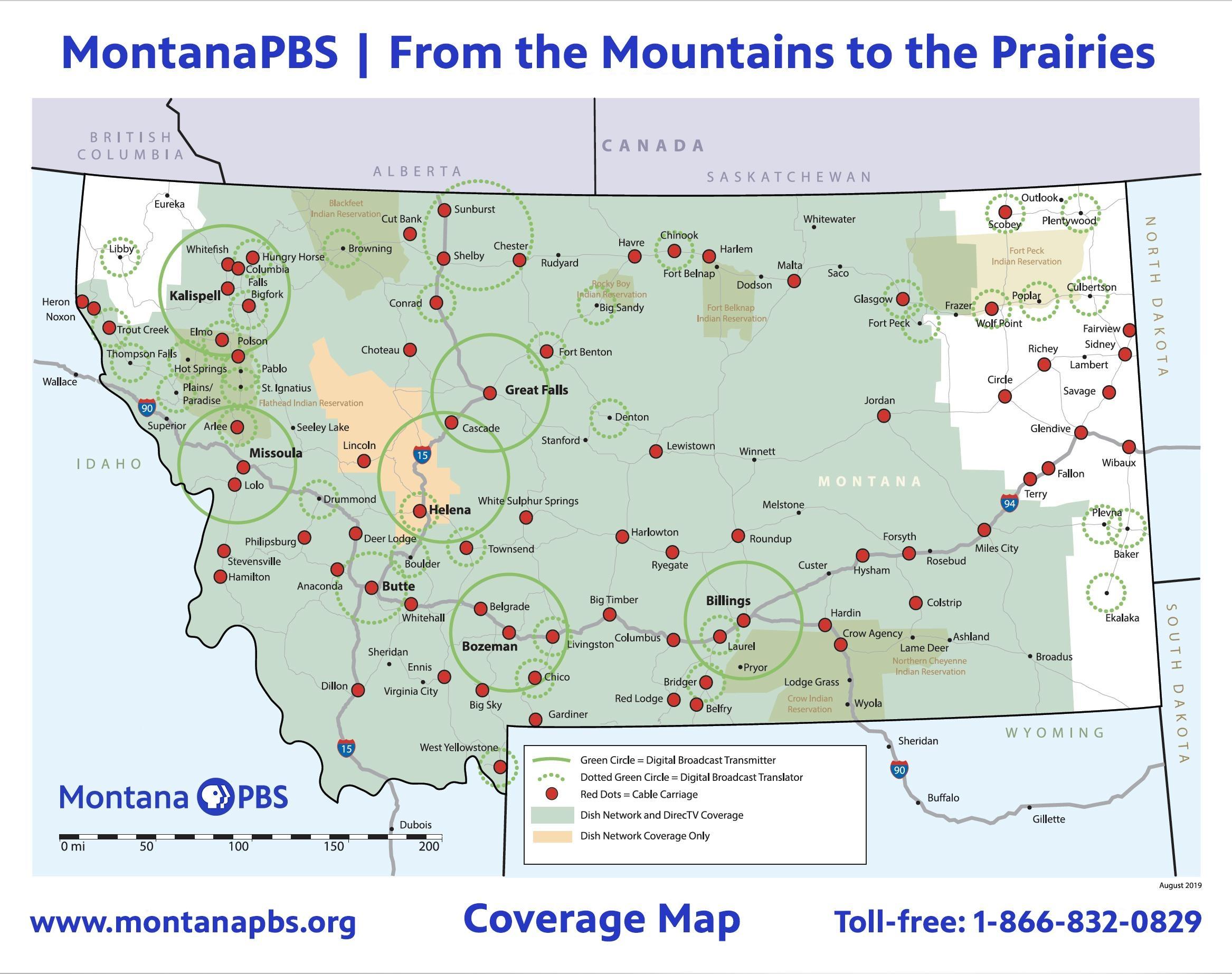 MontanaPBS Channels Available:
MontanaPBS - Montana's most widely available public television programming available with PBS national and local programming. High Definition programming available.
MontanaPBS Kids - Educational programming geared to kids and to parents with kids.
MontanaPBS Create - Public Television's top shows in Cooking, Arts, and Crafts.
MontanaPBS World - Unexpected stories: video, audio, documentaries, commentary, public TV, etc.
Montana State Capitol Coverage - Montana Public Affairs Network (MPAN) is a state government broadcasting service that provides unedited, gavel-to-gavel coverage of Montana's legislative proceedings.
Tools to Help with Receiving MontanaPBS Channels:
TV Fool - Free website tool for checking your location for free OTA (Over the Air) TV.
Main TV Fool Website. Use TV Fool to interactively find what TV signals are available for your location.
Free Over the Air Satellite - If you have a large satellite dish and a DVB-S2 tuner, you can get MontanaPBS.

Satellite: AMC-21, Ku Band (125 deg W)
Encoding: DVB-S2
Polarity: Vertical
Downlink Frequency: 11916.5 MHz
Symbol Rate: 2.398 MS/s
Forward Error Correction (FEC): 2/3