Finding Traction
Finding Traction presents the inspirational story of ultra runner Nikki Kimball's quest to become the fastest person in history to run America's oldest hiking trail, the 273-mile Long Trail.
Finding Traction can be watched at Amazon.com (free if you're an Amazon Prime member).
About the film
Finding Traction presents the inspirational story of ultra runner Nikki Kimball and her quest to become the fastest person in history to run America's oldest hiking trail, the 273-mile Long Trail. The documentary asks what drives her to attempt such an incredible feat, and follows Nikki's journey from its beginning – training and racing in the Rocky mountains – to her actual record attempt through Vermont's beautiful but brutal Green Mountains. Throughout the film, Nikki's crew and support team provide an intimate portrayal of the courage, grit and passion behind her record attempt, and interviews with the world's leading evolutionary biologists, including Bernd Heinrich, author of "Why We Run," shed light on the science and psychology behind Nikki's incredible race against time. For Nikki, this well-publicized run is more than a chance to inspire people to be active and spend time outdoors, it's her way of encouraging women and girls to take an equal place for themselves in professional sports. In addition to providing an inside look into the journey of an elite athlete, Finding Traction gives viewers a new perspective on the endurance of the human body and spirit, and informs us all, regardless of our sex, of our true potential and inspires us to reach it.
Finding Traction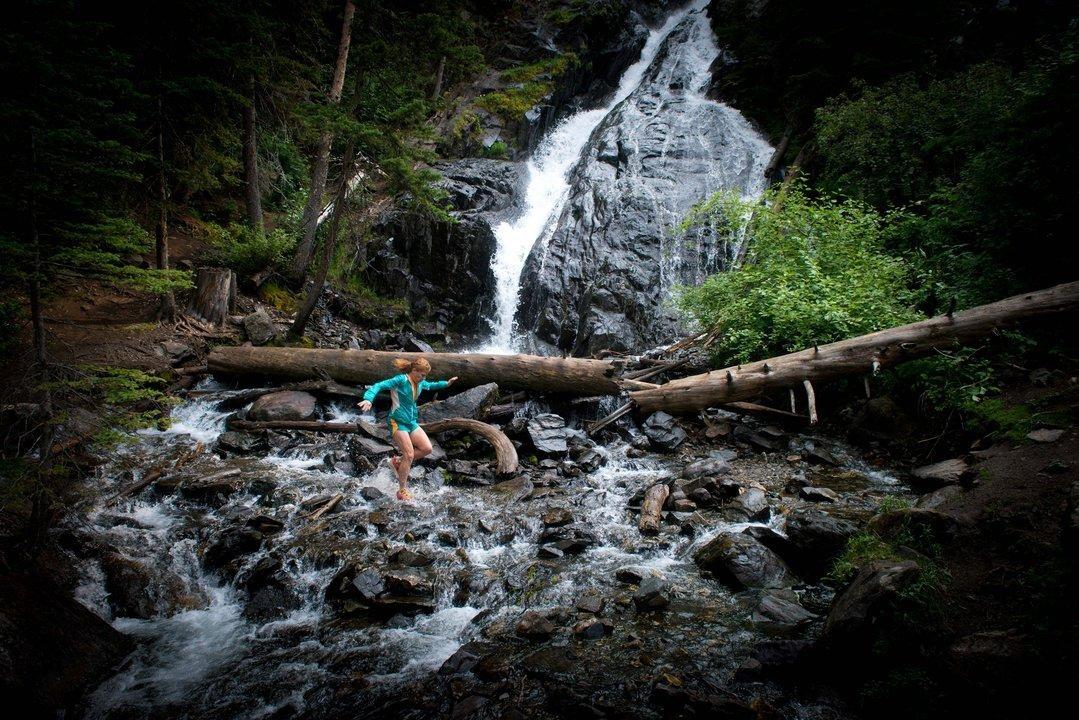 Finding Traction will reveal the determination of the human body and spirit.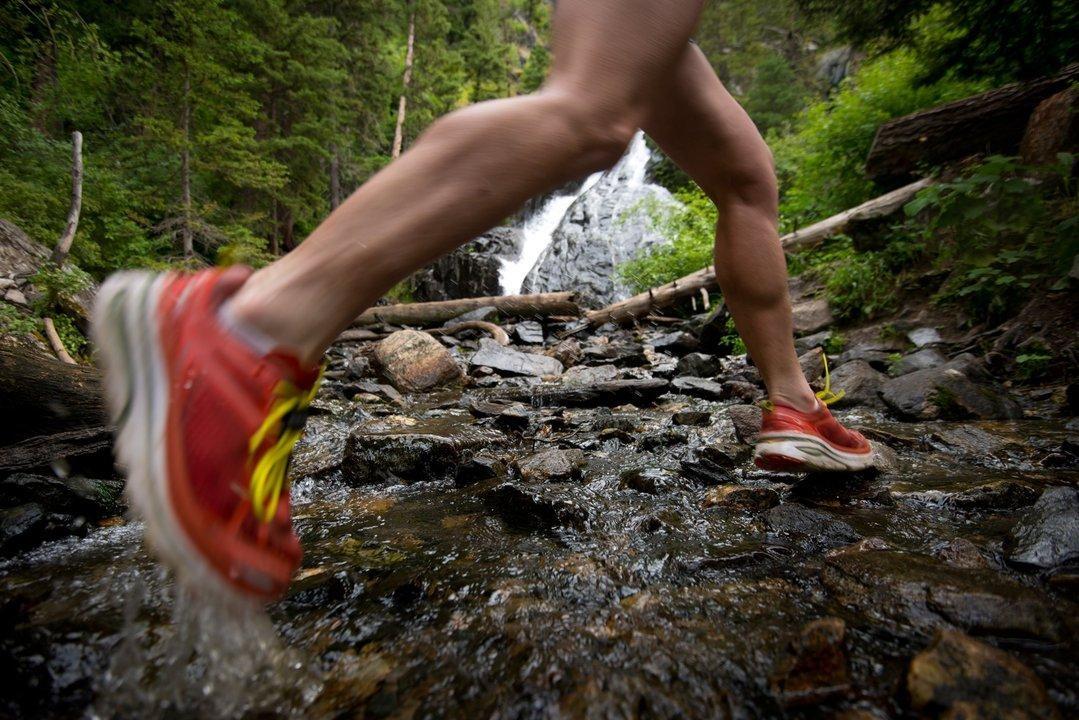 Running Vermont's Long Trail is the equivalent of running 10 marathons, back to back.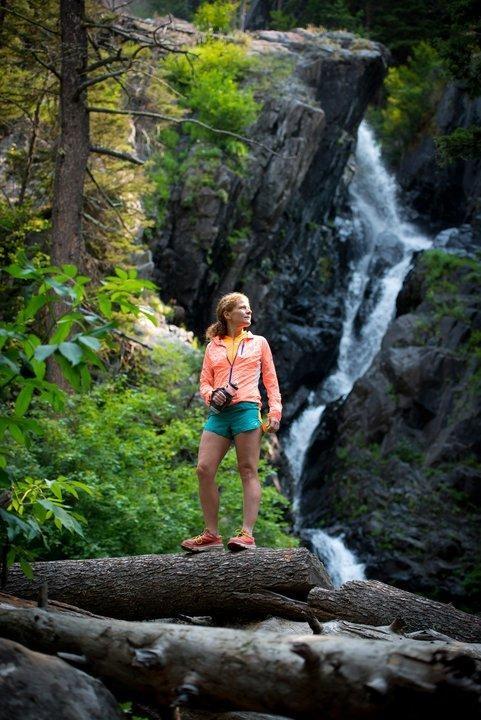 Nikki hopes to inspire women and girls to go after their dreams through her Long Trail quest.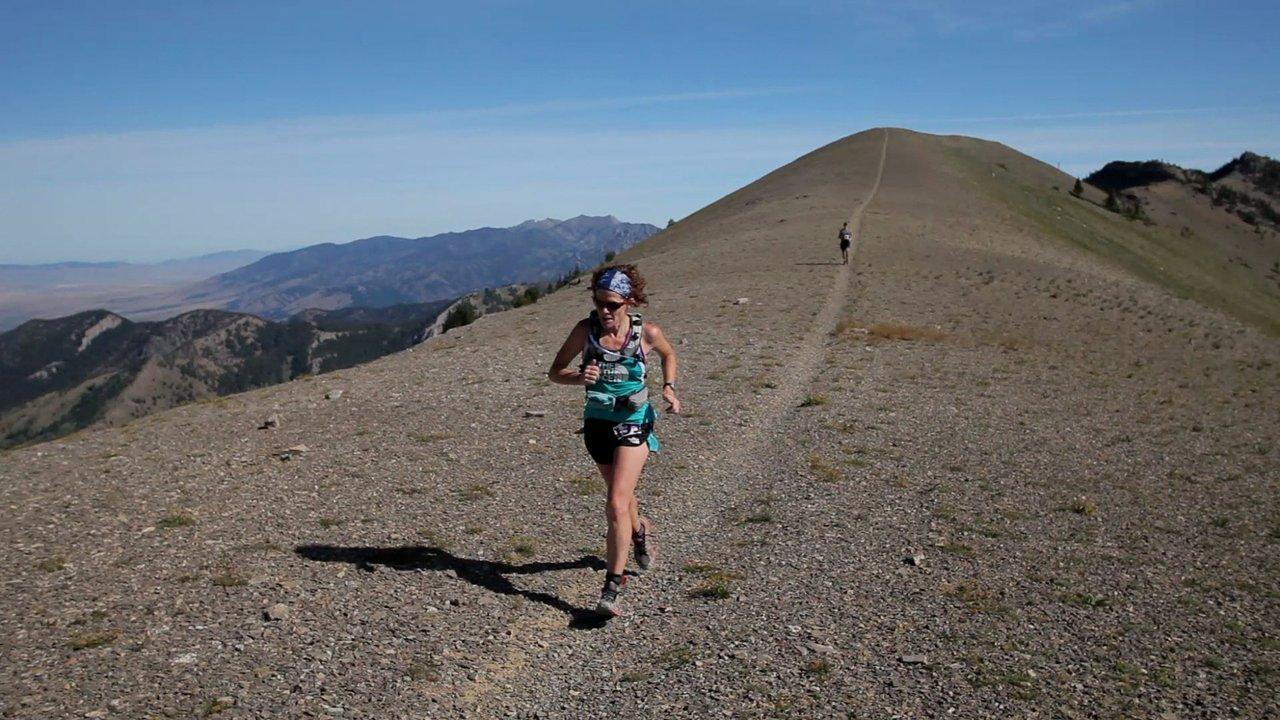 Nikki races in the 2011 Bridger Ridge Run, one of the most rugged 20-mile trail runs in existence.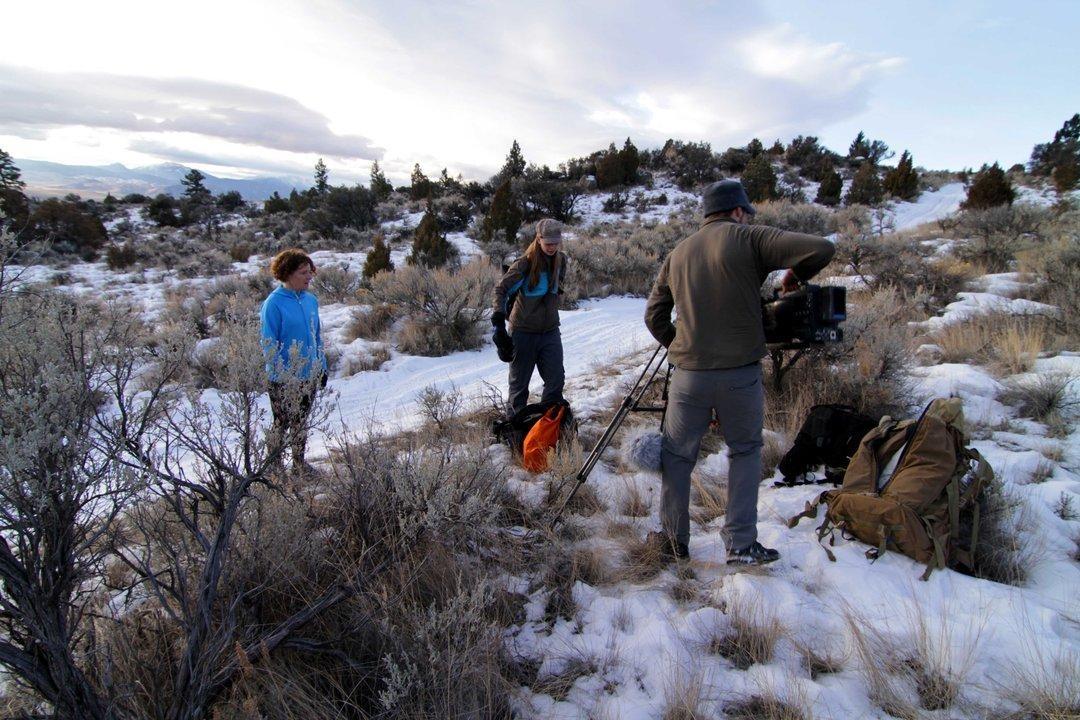 The Finding Traction Team films Nikki's spring training in Pipestone, Montana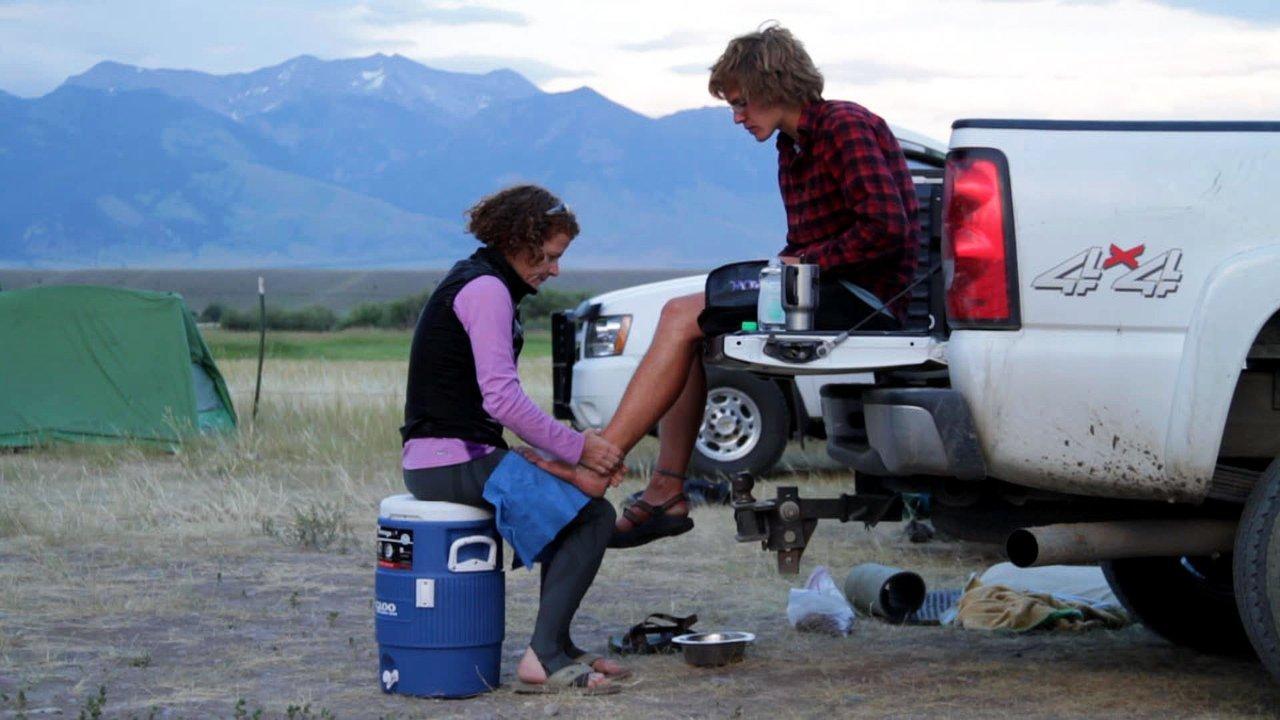 In addition to racing as a professional athlete, Nikki works as an Orthopedic Physical Therapist.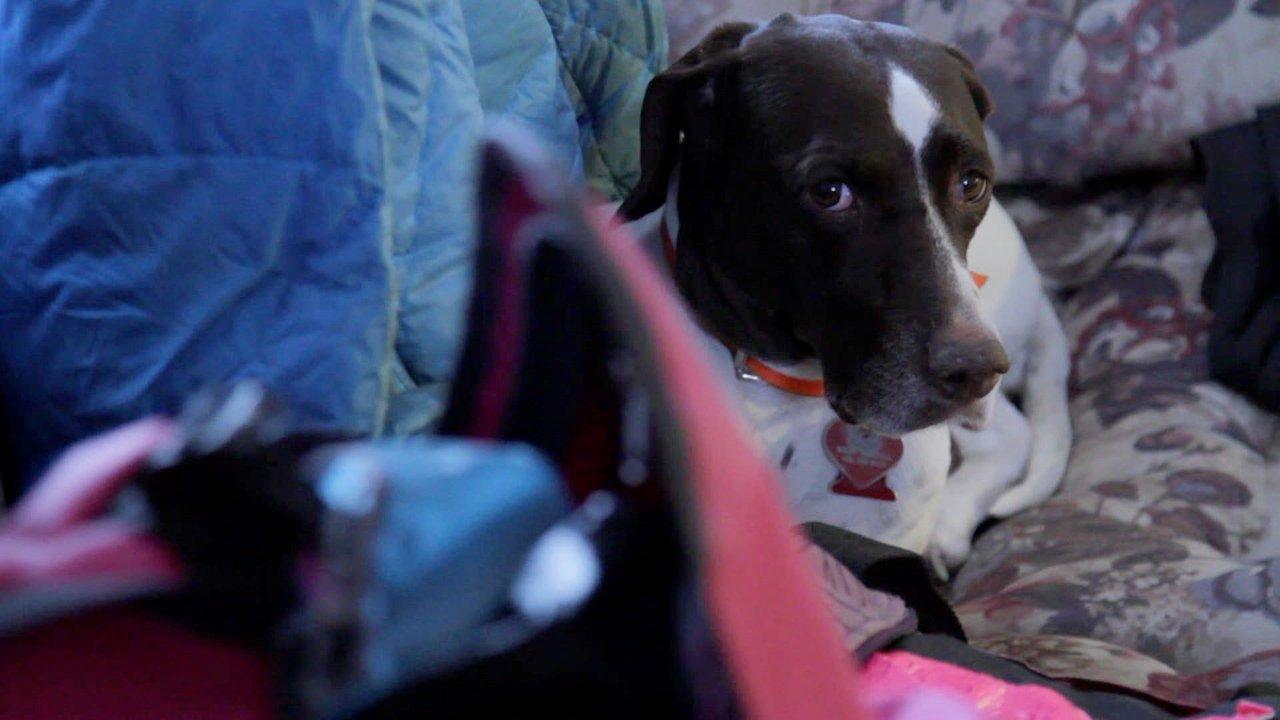 Darby was Nikki's running partner for over a decade. She was even pictured on the cover of Running Times with Nikki in 2005!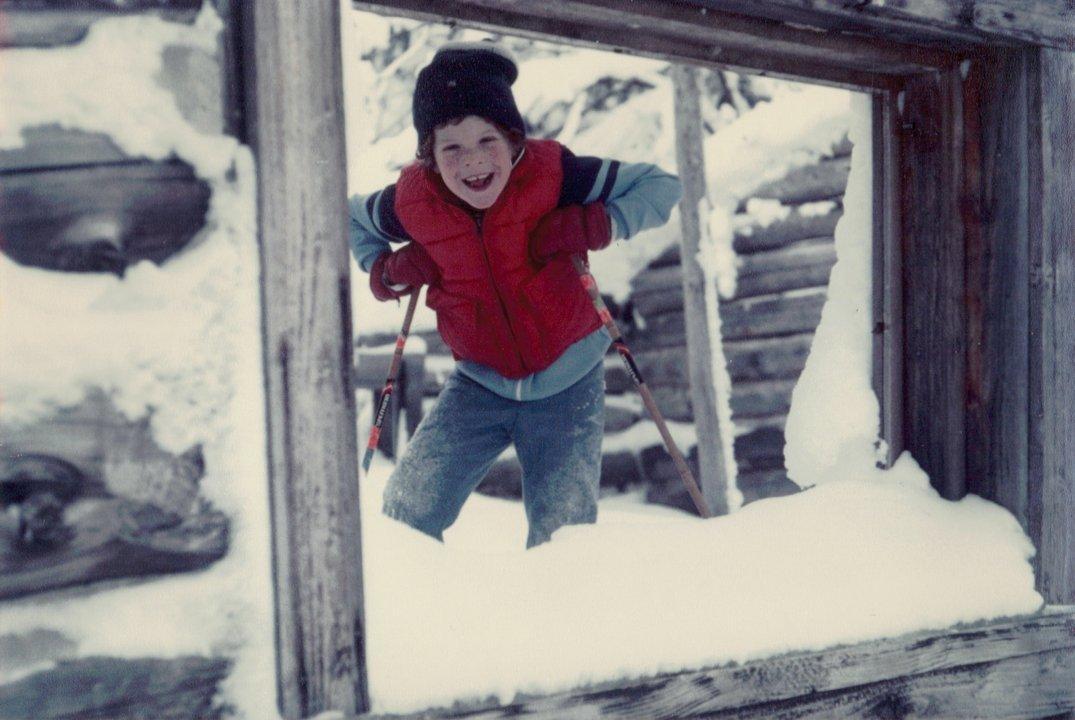 Credit: Bill and Millie Kimball
Nikki, pictured here at 8 years old, grew up skiing and running in Vermont's Green Mountains.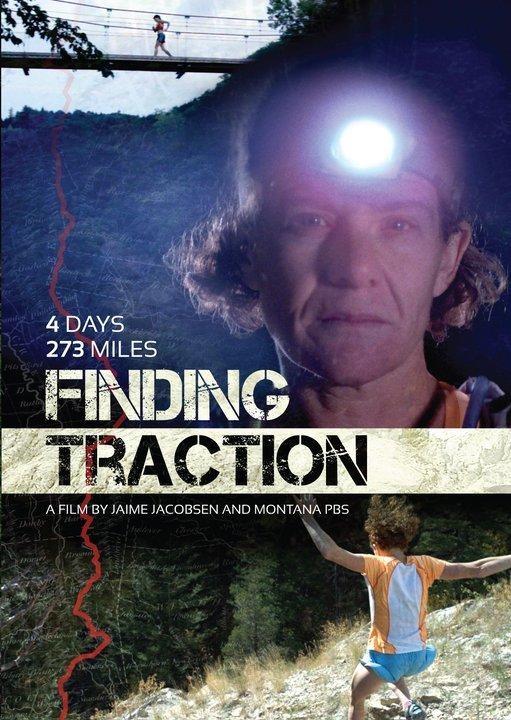 Finding Traction DVD Cover
Production Team
Jaime Jacobsen - Director
Jaime Jacobsen is an independent filmmaker who is passionate about using film to cultivate conversation on the pressing issues of our times. Her films have explored the politics of gender and identity, as well as contemporary social justice issues through the eyes of Native American youth and elders in the Rocky Mountain West and women in diverse communities across the globe. Jaime's previous films include The Water Carriers, which profiles an engineering student's work to bring clean water to school children in Kenya (Silver Telly Award, 2008), Homefront: United or Divided, Montana PBS' companion program to Ken Burns' The War (Regional Emmy Award Nomination, 2008) and Montana Fare, about food politics and culture in rural Montana (College Emmy, 2010). Most recently, Jaime won an Emmy Award for her work as a Field Producer on Indian Relay (Independent Lens, 2013). She currently teaches filmmaking as an Assistant Professor of Media Studies at Notre Dame University – Louaize in Beirut. Prior to moving to Lebanon, she taught in the Honors College at Montana State University, where she obtained a MFA in Science and Natural History Filmmaking.
Aaron Pruitt – Executive Producer
Aaron Pruitt is the Associate General Manager and Director of Content for Montana PBS, providing editorial leadership for the statewide public TV service and reviewing thousands of hours of programming from national and local sources. Pruitt serves as executive producer for many Montana PBS productions including the news-public affair series, Montana Focus, and the music performance program, 11th & Grant with Eric Funk as well as documentaries like the award-winning Class C: The Only Game in Town. Pruitt often collaborates with independent filmmakers, and has distributed programs to PBS, such as Wolves in Paradise (PBS Plus), Before There Were Parks: Yellowstone and Glacier Through Native Eyes (PBS NPS), Fort Peck Dam (PBS Plus) and two PBS Independent Lens documentaries, Butte America and Indian Relay. With 20 years' experience, Pruitt understands the PTV audience, the educational mission of public television as well as the editorial and technical processes for guiding projects through the PTV system.
Charles Dye – Co-Producer / Co-Director
A competitive distance runner in high school and college, Charles was immediately drawn to the story of Finding Traction. Currently teaching cinema production at Virginia Tech, Charles' most recent film, Indian Relay, won two regional Emmy Awards and aired on PBS' Independent Lens in 2013. His earlier work includes the Emmy winning Before There Were Parks: Yellowstone & Glacier Through Native Eyes, A Cat Called Elvis--the #1 downloaded podcast on the Webby-award winning www.lifeonterra.com, Last of the Gum Men, which aired nationally on PBS via NETA satellite in 2003, and Saving the Snow Leopards of Mongolia, which aired worldwide on the National Geographic Channels in 2002.
Rick Smith – Co-Producer
Rick Smith's award winning work has been featured in numerous fiction and documentary films. He has worked as producer, cinematographer, and photographer for a variety of non-profits, governmental agencies and broadcast entities including PBS, National Geographic Television, Yellowstone National Park, and The Nature Conservancy. Smith's films have been the official selection at dozens of film festivals and his film 2006 short film Fish & Cow was a newcomer finalist at the 2007 Jackson Hole Wildlife Film Festival as well as a recipient of the 2008 International Wildlife Film Festival Montana Filmmaker Award. Most recently, his work on the Montana PBS films Indian Relay and Before There Were Parks both received Northwest Regional Emmy Awards for Best Cinematography in 2014 and 2010, respectively.
Daniel Schmidt – Co-Producer / Director of Photography
Daniel is committed to creating smart and edgy non-fiction films that reflect the human connection to the natural world. He has worked as a producer, editor, and cinematographer for a variety of broadcast entities, government agencies, and non-profits including National Geographic Television, PBS, NASA, The National Science Foundation, DIY, HGTV, Patagonia, On The Snow, TeleCaribe, and the Greater Yellowstone Coalition. He garnered an Emmy award during his tenure as Senior Producer of the Montana PBS series, TERRA and his own film, Feeding the Problem, was nominated for the Best Newcomer Award in 2011 at the prestigious Jackson Hole Wildlife Film Festival. His passion for adventure, storytelling, and cinematography has taken him around the world – from the high-mountain huts of Japan's top sword makers, to the snake-filled swamps of the Tasmanian highlands. His combined love of art, science, and storytelling thrust him into the land of media production and an MFA in Science and Natural History Filmmaking from Montana State University.
Stefanie Watkins – Writer / Editor
Stefanie has been editing factual shows and films for over eight years, specializing in natural history and documentary programming for the BBC, Discovery, National Geographic, and PBS, to name a few. She now lives in the UK, but continues to work in the US whenever she can. Since moving abroad, she has been editing for landmark series like North America on the Discovery Channel, and Planet Earth Live on BBC 1, as well as sports series like Spirit of Sport on ESPN Stars. She has also worked as an editor and writer for the Nat Geo Wild series, America the Wild, and spent five years as a lead editor and astronomy producer at NASA.
Cast
Nikki Kimball – Principal Talent
Nikki Kimball is an ultra marathon runner who uses her racing credentials to promote women in sport, decrease stigmas attached to mental illness, and pursue other philanthropic goals. Her athletic dreams began early in life as a cross-country ski racer who does not remember a time before training to attain top positions in her sport. Her quest to become an Olympic ski racer ended within a couple years of college graduation with the onset of a debilitating bout of major depression, which made her dreams financially and practically impossible. In the absence of ski racing, Nikki decided to attend graduate school in physical therapy, hoping to help others attain their athletic and health-related goals.
After graduation, Nikki began work as a physical therapist in upstate New York where she focused her competitive nature on trail running rather than ski racing. She quickly became one the world's best ultra runners, undefeated in trail ultra racing for seven years. In addition to eight national championship titles in ultra running, and four in snowshoe racing, Nikki's resume includes wins at the world's most iconic races: Western States 100, Marathon des Sables, and Ultra Trail du Mont Blanc. Off the trail she created, "The Running Clinic," a multi-disciplinary health care service aimed at avoidance of running related injuries while living in Upstate New York, and she currently specializes in the treatment of running injuries near her home in Bozeman, Montana. She has also contributed several articles about running injury prevention and treatment to "Runner's World" magazine, and used her running fame as a platform to raise money for organizations such as Girls on the Run and Starfish (an HIV/AIDS prevention charity in South Africa). In addition she frequently speaks to groups about the use of sport in fighting major depression and encouraging open, frank discussion of this difficult topic. This is Kimball's first appearance in a feature documentary.

Film credits
Executive Producer
Aaron Pruitt
Producer & Director
Jaime Jacobsen
Co-Producer/Director
Charles Dye
Co-Producer
Rick Smith
Daniel Schmidt
Humanities Advisor
Don Demetriades
Science Advisor
Bernd Heinrich
Awards & Screenings
2015 – Best Mountain Sports Film, Vancouver International Mountain Film Festival (Canada)
2015 – Best Women in Adventure Film - Gold Award, Sheffield Adventure Film Festival (United Kingdom)
2015 – Best Running Film - Silver Award, Sheffield Adventure Film Festival (United Kingdom)
2014 – Best Action Sports Film, Danish Adventure Film Festival (Denmark)
2014 – Finalist, Mountain Film Competition, Banff Mountain Film Festival (Canada)
2014 – Official Selection, Mumbai Women's International Film Festival (India)
2015 – Official Selection, Big Sky Documentary Film Festival (Missoula, MT)
2015 – Official Selection, Green Mountain Film Festival (Montpelier, VT)
2015 – Special Screening, The Trail Running Film Festival (Ashland, OR)
2015 – Selected as the headliner for the 2015 Trails in Motion 3 World Tour (100 cities in 25 countries)