Facing The Storm: Story Of The American Bison
First Aired Thursday, April 28, 2011
The complete history of human relations with the largest land mammal on the continent.
Official web site includes trailers, reviews, deleted scenes, and more. The entire interview for the film with Governor Schweitzer is also available for viewing.
MontanaPBS broadcast of High Plains Films' feature documentary FACING THE STORM: STORY OF THE AMERICAN BISON explores the history and future of bison in North America, and exposes the underbelly of Yellowstone National Park bison management. The film is the result of the collaboration of diverse Montana talent, and is an ITVS/MontanaPBS co-production.
DVD review copies are available on request
About the Film:
FACING THE STORM is the epic account of our tempestuous relationship with the iconic symbol of wild America. It details the inextricable relationship of the Plains Indians with the animal, and recounts the harrowing near-destruction of the species in the late nineteenth century -- from an estimated 30 million bison to a mere 23 individuals by 1885. It graphically exposes the annual slaughter of bison outside of Yellowstone National Park, where the largest genetically-pure herd remains in semi-captivity. Finally, the film explores the epic vision -- and monumental obstacles -- to restore bison to immense tracts of the Great Plains. This involves a dramatic transformation of how we understand the Great Plains - from a utilitarian world view to a fully-functional ecosystem that combines a lost culture with modern ecological science and contemporary economies. FACING THE STORM shows us that the bison is not just an icon of a lost world, but may show us the path to the future.
The film includes interviews with Montana Governor Brian Schweitzer, Montana Stockgrowers Association Director Errol Rice, and former Montana State Veterinarian, Thomas Linfield.
About High Plains Films:
Missoula's High Plains Films, a program of the non-profit Big Sky Film Institute, dedicates itself to exploring issues about the relationship between nature and society. Their documentaries have earned more than 35 awards nationally. Their feature LIBBY, MONTANA was nominated for a national Emmy award in 2008. In 2007, the team was the recipient of the True West Visionary Award, a career achievement award at the True/False West Film Festival. Their other films include: VARMINTS (1998), KILLING COYOTE (2000) THIS IS NOWHERE (2002), and BRAVE NEW WEST (2008).
Facing the Storm: Story of the American Bison
Animation still of a bison in silhouette on a grassy knoll.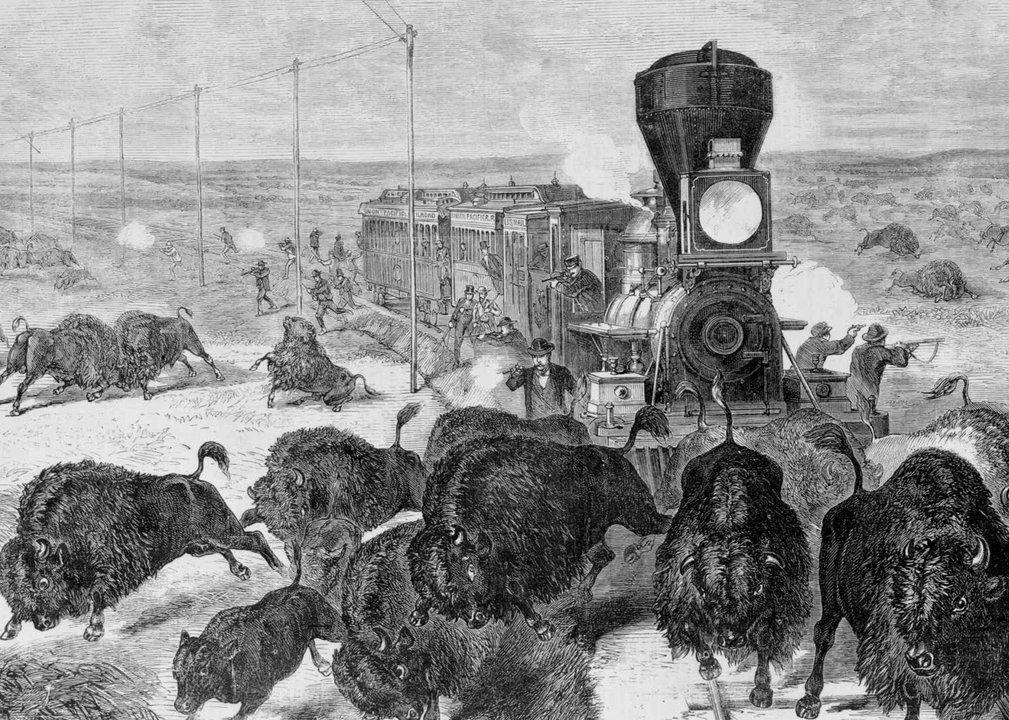 Credit: Library of Congress
Illustration of men shooting bison from a Kansas-Pacific Railroad train.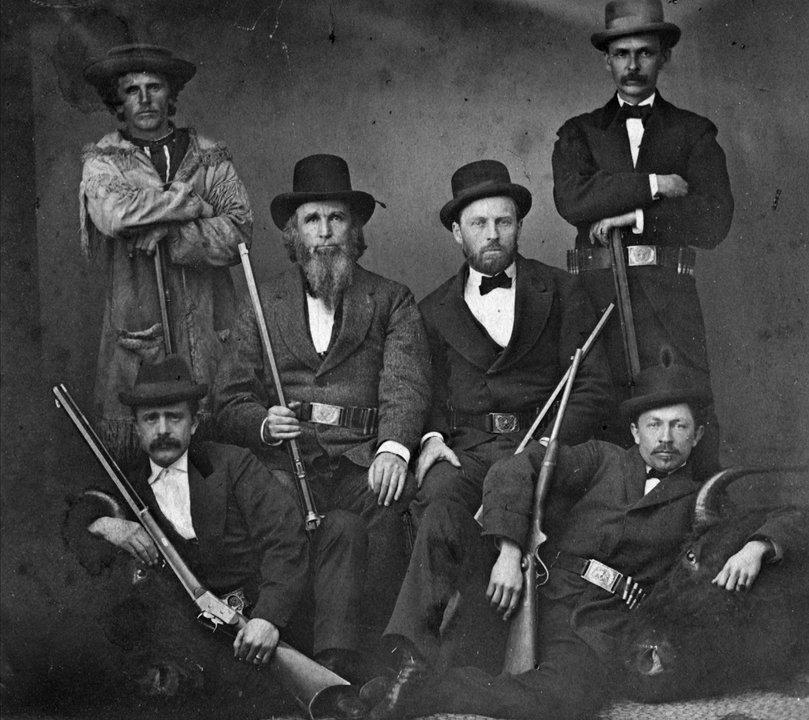 Credit: Library of Congress
Bison hunters with bison heads.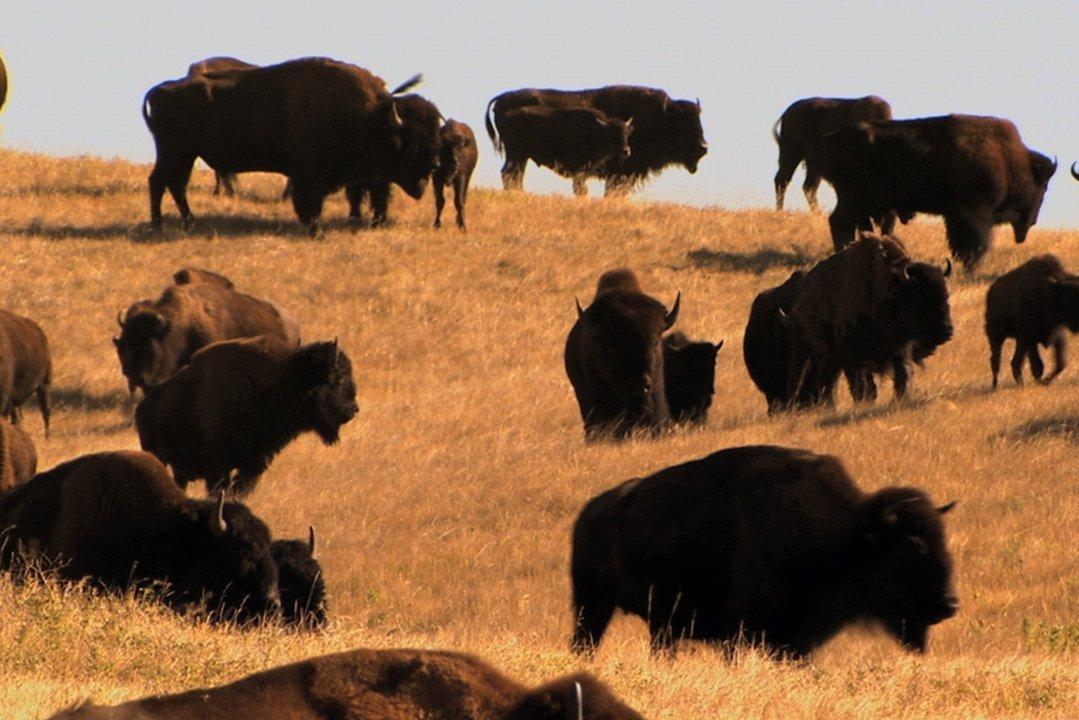 Credit: Province of Alberta
Herd of bison, southern Alberta, Canada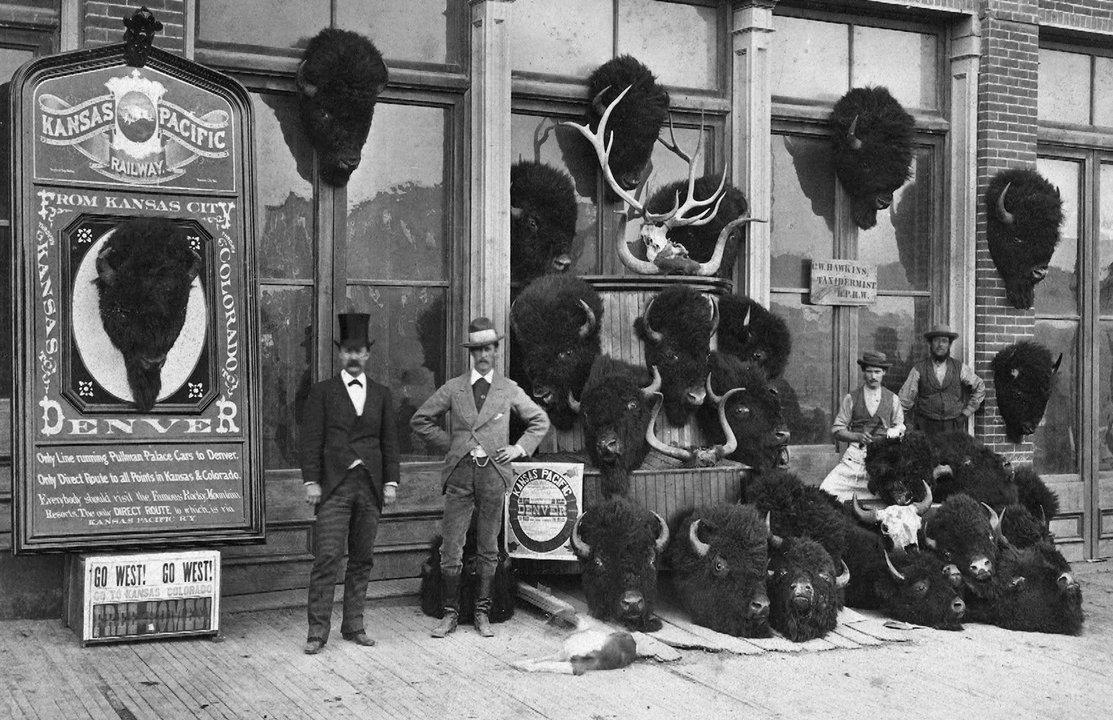 Credit: Library of Congress
Photo of a collection of bison heads killed from the Kansas Pacific Railway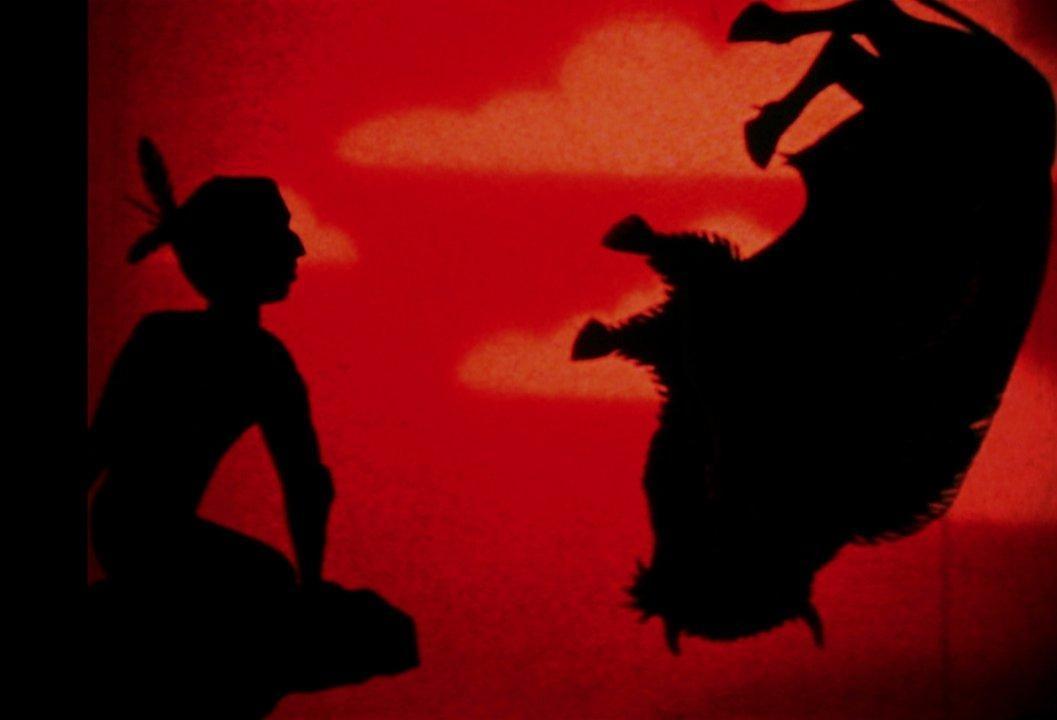 Animation still of a Native American looking on as a bison falls from a buffalo jump.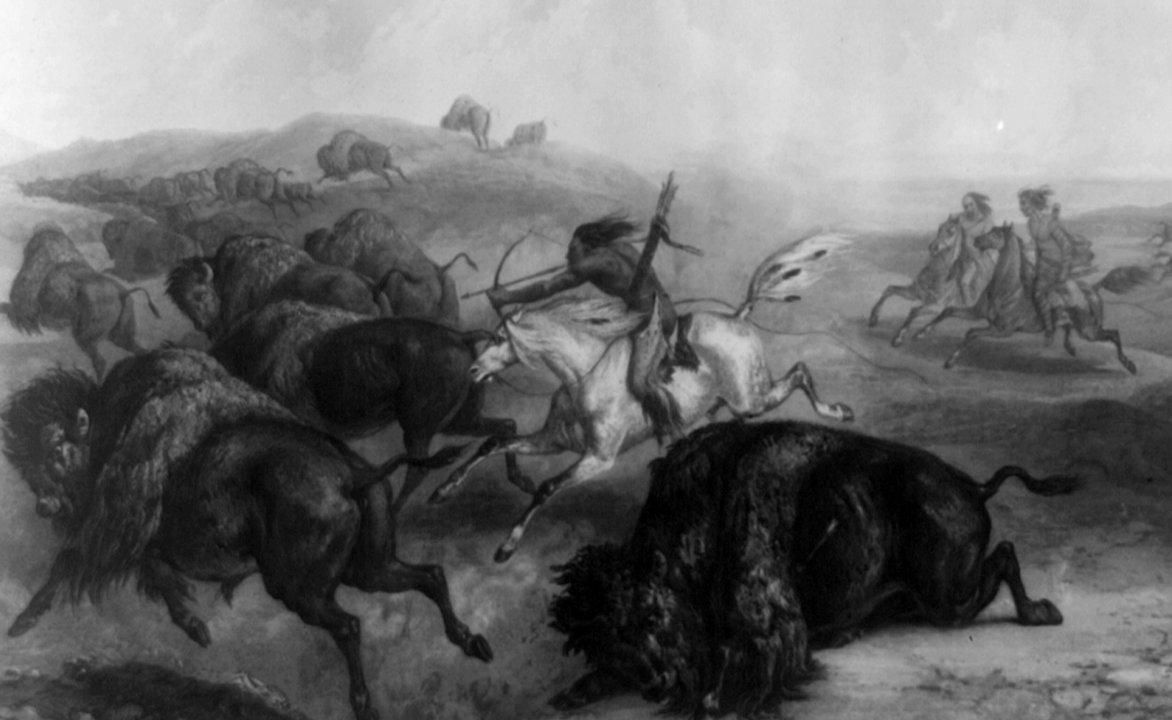 Credit: Library of Congress
Drawing of Native Americans hunting bison on horseback with bow and arrow.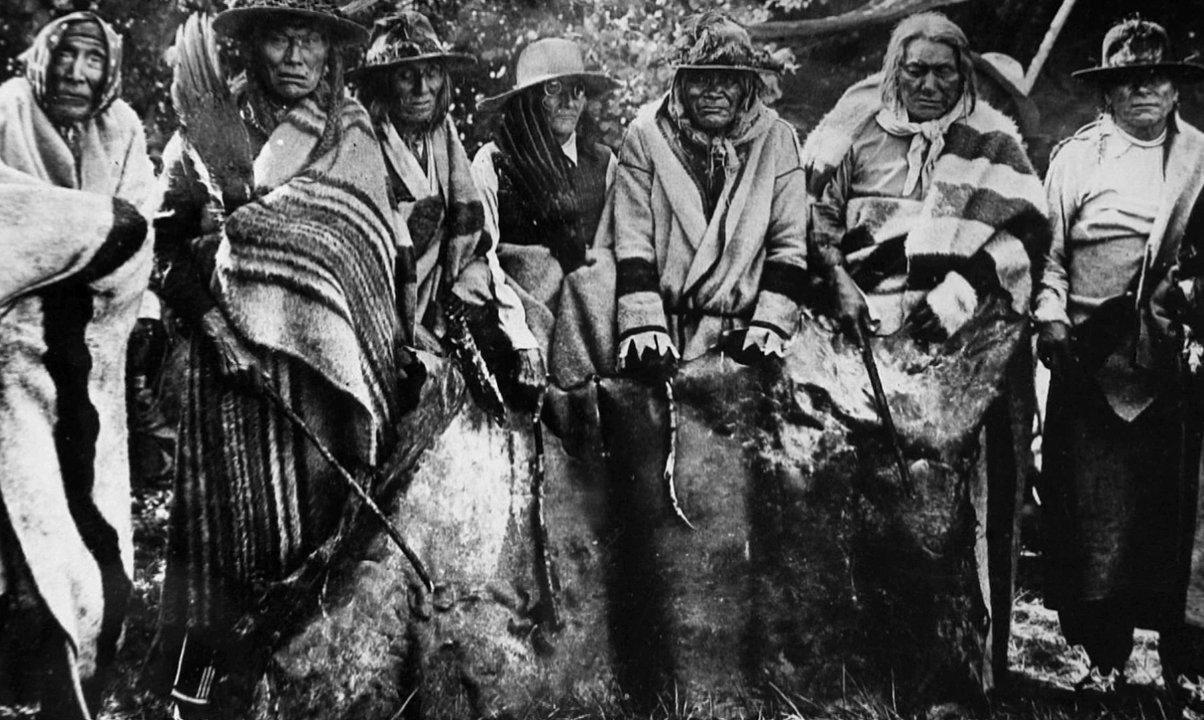 Credit: Province of Alberta
Archival photo of Native Americans holding bison robe.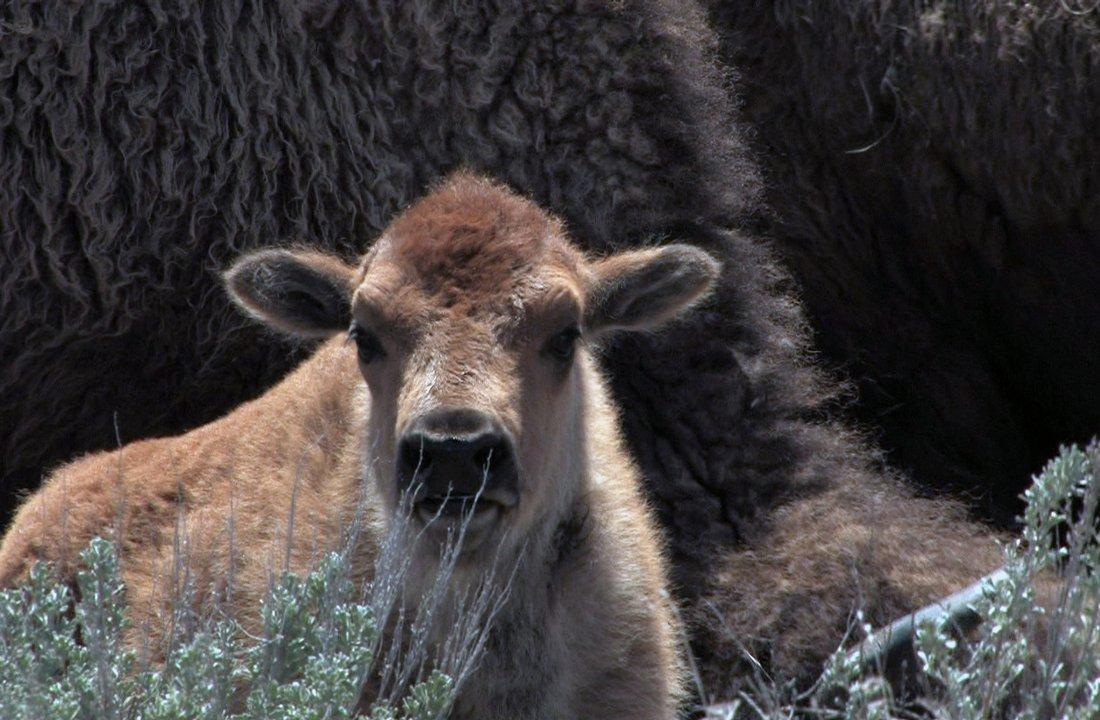 Credit: High Plains Films
Bison calf close-up, Yellowstone National Park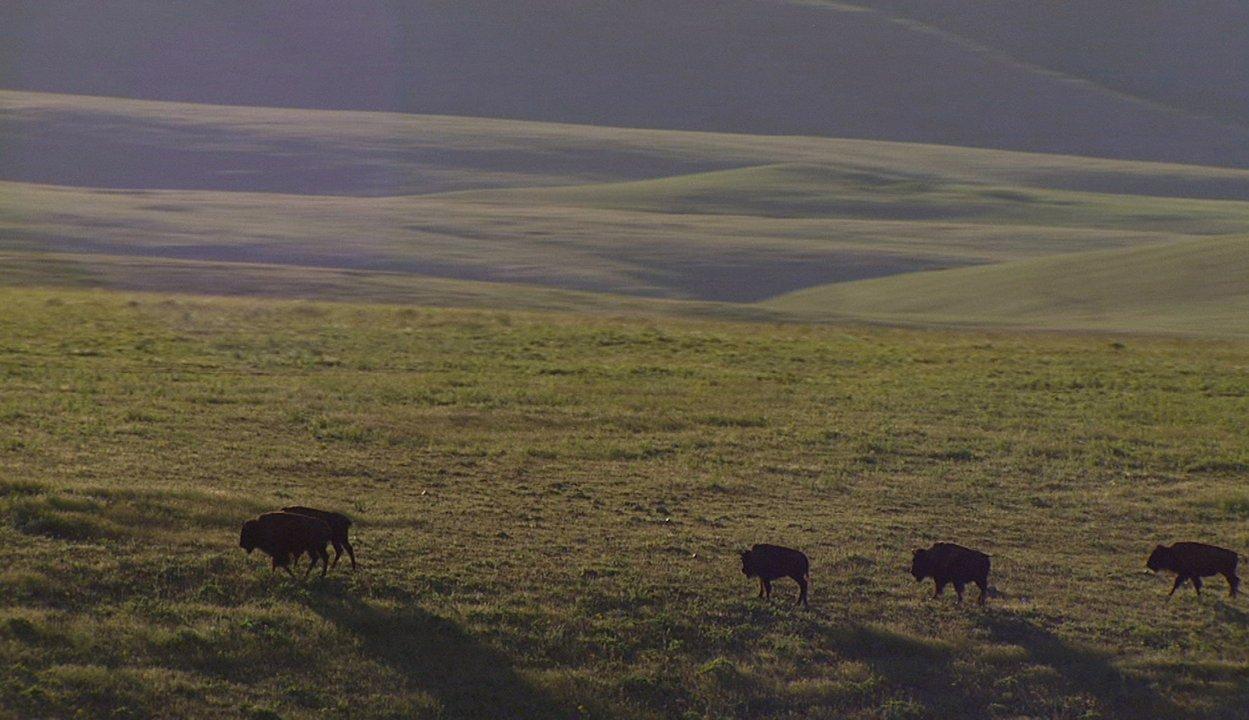 Aerial of bison in prairie in eastern Montana.
Credit: Province of Alberta
Lone bison on prairie at sunset, southern Alberta, Canada.
Reviews:
An unflinching overview of the long and complex history of the interaction between humans and bison. An honest, unflattering portrait of a nation's unabated hunger for more, even when faced with less." Big Sky Journal
An unexpectedly passionate film about animals and nature and their precarious state in the modern world." St. Louis Beacon
May be the most comprehensively-concise examination of how and why we managed to nearly eradicate 30 million animals from the Great Plains… and what's being done today to ensure their survival.Missoula Independent
A smart, elegant production." NewWest.net
Film Credits
FACING THE STORM is a product of collaboration between many talented western Montana artists and professionals, including:

--Director/producer Doug Hawes-Davis, of High Plains Films, has directed and produced over a dozen critically-acclaimed documentaries. He co-directed the feature documentary LIBBY, MONTANA, which was nominated for a national Emmy Award in 2008. In 2003, he founded the Big Sky Documentary Film Festival, which has become a top national non-fiction showcase.
Other local contributors include:
--Dru Carr, also of High Plains Films, contributed to cinematography and editing. Carr co-directed the national Emmy-nominated LIBBY, MONTANA.
--Andy Smetanka of Missoula, whose stunning and innovative stop-motion silhouette-animation provides the context for several historical scenes.
--Ken Furrow of Missoula contributed to cinematography and sound
--Missoula co-producers Rita Pastore and Danny Dauterive (MontanaPBS).
--Historian Dan Flores of the University of Montana, who is featured in the film
--Mike Mease and the Buffalo Field Campaign provided footage from years of work near West Yellowstone.
--Burke Jam, local musician who provided music for the film score.
--Ivan Rosenberg, former Missoulian, who composed original music.
Executive Producer
Rita Pastore
Director
Doug Hawes-Davis
Editor
Greg Snider
Producers
Doug Hawes-Davis
Rita Pastore
Danny Dauterive (for Montana Public Television)
Camera & Sound
Drury Gunn Carr
Doug Hawes-Davis
Ken Furrow
Additional Editors
Drury Gunn Carr
Doug Hawes-Davis
Original Score
Ned Mudd
Ivan Rosenberg
Mike Grigoni
Final Audio Mix
David Howe
Bad Animals/Seattle
Archival Footage Research
Doug Hawes-Davis
Rita Pastore
Jeff Krulik
Additional Music
Ben Trechsel
Burke Jam
Colorist
Tim Maffia
Modern Digital/Seattle
Production Manager
Robby Fahey (for ITVS)
Super 8 Animation
Andy Smetanka
On-Line Editor
Doug Hawes-Davis
Web Links:
High Plains Films - Facing the Storm
American Bison Society
Buffalo Bill Historical Center
Buffalo Field Campaign
C.M. Russell Museum
Custer State Park
Durham Bison Ranch
Head Smashed-In Buffalo Jump
The Independent Television Service (ITVS)
Inter-Tribal Bison Cooperative
Montana Public Television
National Bison Range
Wild Idea Buffalo Company
Wind Cave National Park
Yellowstone National Park