Keepers Of The Land: Three Montana Families & Their Homestead Legacies
First Aired Thursday, May 10, 2012
The Homestead Act of 1862 was one of the most significant events in westward expansion.
Keepers of the Land
Keepers of the Land
56:59
Published:
Three Montana Families and their Homestead Legacies
Keepers of the Land: Three Montana Families & Their Homestead Legacies - A Film by Carmen Daye Irish
Keepers of The Land is about three Montana families still living and working the land their ancestors homesteaded more than a century ago. The stories explore connections to the land, and connections to past and future generations.

The Homestead Act of 1862 is one of the most significant and enduring events in the westward expansion of the United States. By granting 160 acres of free land to claimants, it allowed nearly any man or woman a "fair chance." Nearing the 150th Anniversary of President Abraham Lincoln's approval of the Act, the documentary explores its characteristics of importance to the state of Montana, and to Montana's keepers of the land.

It was the purpose of the government to "elevate the condition of men, to lift artificial burdens from all shoulders and to give everyone an unfettered start and a fair chance in the race of life." And when President Lincoln signed the Homestead Act into law, he announced "This will do something for the little fellow." The Act allowed men and unmarried women who were American citizens over the age of 21 to claim up to 160 acres of public land and make homes for themselves and their families. Two years following the Act, the first homestead entry made in Montana was on a claim just north of Helena.

The chance for free land and opportunity proved irresistible to many, and in the following decades, 151,600 homesteads had been claimed in Montana, the most out of any state that had enacted the Homestead Act, according to the U.S. Department of the Interior. North Dakota trailed by 118, 472 homesteads.

Many homesteaders came, but far fewer stayed. The men and women who came to claim free land in Montana faced many hardships, trials and tribulations. Setting off into the unknown land, everyone hoped for a second chance and a better life. With pockets filled with hope and opportunity, many were lured by the railroads that carried advertisements saying Montana is "a land of milk and honey."

Upon arrival, without a dollar or a hog to eat, several homesteaders found the land was harsh and barren with extremely poor-quality soil. And some farmers simply could not make anything grow in the ground they had chosen. Natural disasters were also forces that created problems for farmers. Prairie fires, winter blizzards, tornadoes and insect infestations were all capable of destroying a long year's worth of work in just a few short hours. Some homesteaders succumbed to the seclusion and isolation of farming in remote territories where another human being was often not seen for months. Poor hygiene and lack of proper medical care often led to illnesses that wiped out entire homesteader families. The common cold could easily develop into pneumonia, all the while, the closest doctor was sometimes 100 miles away. By 1920, at least 80,000 people had either packed up and left or were sent off to fight in World War I. Over time, only about 25 percent survived and succeeded in their homesteading venture.

The first year proved to be the hardest for homesteaders because they had little to no income until their first crop was harvested. The boom of the Homesteading Act began in 1900 and lasted for about two decades. Many factors led to the rise in homesteaders settling in Montana, including the Congressional Homestead Acts of 1868, 1877, 1894, 1902 and 1909, opening land to settlers willing to work hard and pay off their borrowed land, to eventually owning the land. Other factors leading to the homestead boom included gold, technology, railroad marketing and weather. But, discouraged by the lack of rain, drop in crop/livestock prices, and/or grasshoppers, many people eventually abandoned their farms and the state. Or, after going into debt to pay for farming equipment, household goods, seed and stock, many people were faced with financial disaster they could not recover from. Abandoned shacks, dusty fields and deserted towns marked the countryside.

Though homesteaders often had numerous things working against them, many also possessed a strong determination to succeed and own the piece of ground they were temporarily "borrowing" from the government. Many had escaped hard lives and terrible conditions in cities and preferred the harsh but rewarding life of a farmer to that of a poor city-dweller. Many also knew that the Homestead Act offered them their only real opportunity to ever be landowners and to achieve the American dream of land and home ownership. How else could a poor person get 160 acres and a farm of his or her own? Once acquired, homesteaders often swore they would hold the land the rest of their lives and keep it intact for their future generations of family. Those who preserved and prevailed paved the way for future generations.

Just like a century ago, there are still more cattle than people in Montana - almost three times as many- according to the last count taken by the U.S. Department of Agriculture. And agriculture remains Montana's largest basic industry. Sixty-six percent of the state's 93,000,000 acres are used for farming and ranching. The average farm size in Montana is 2,079 acres. But, the numbers of farms and ranches have dropped by almost 50 percent from the homestead boom; in 1920 there were 57,700 farms in Montana; as of 2008 there are only 29,500.

It is unknown how many homesteads are still occupied by family descendants. Only 15 families have registered to be recognized by the Centennial Farm and Ranch Program since 2011. According to John Boughton, national register coordinator for the Montana Historical Society, they all share a common goal: Be sustainable and be good stewards for the future generations of family, just as their ancestors did for them.
Keepers of the Land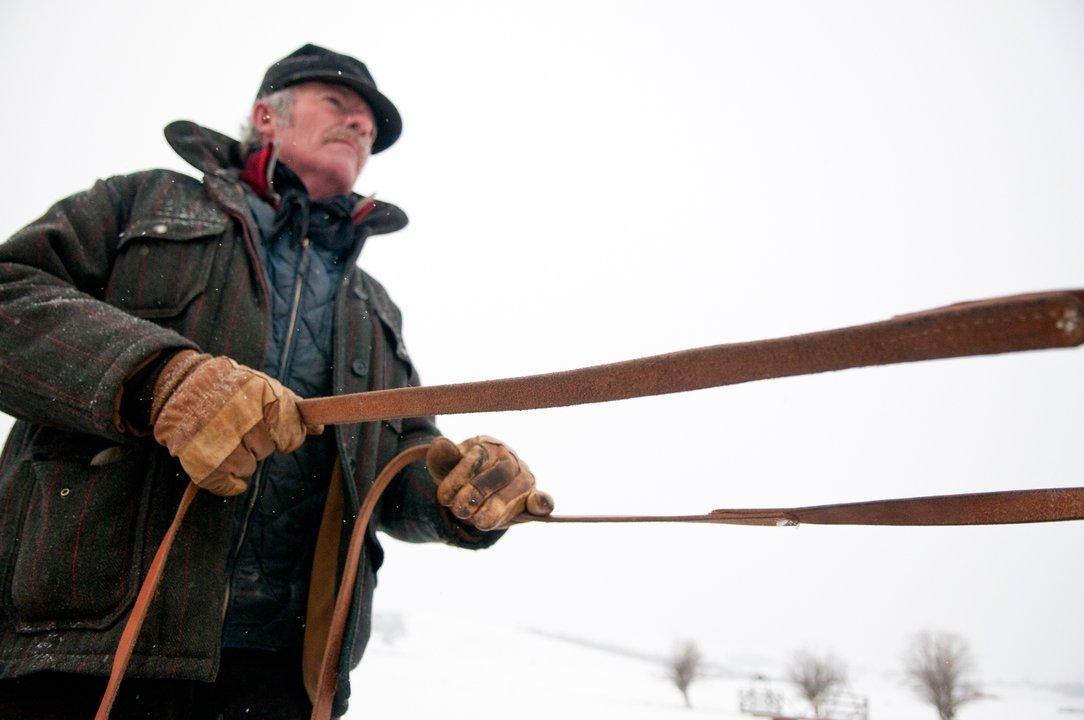 Credit: Carmen Daye Irish
Bill McIntosh leads his team of draft horses that are hitched to a low slung hay sleigh.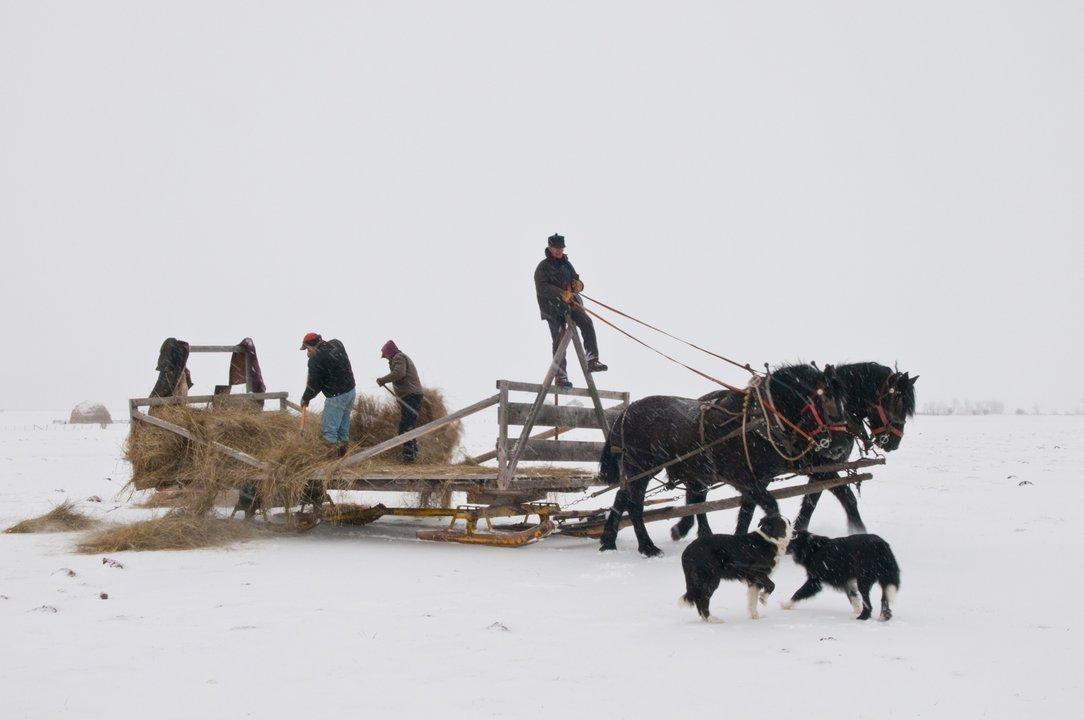 Credit: Carmen Daye Irish
Bill McIntosh and his two sons Lou and Gib feed nearly 850 cattle during the winter months.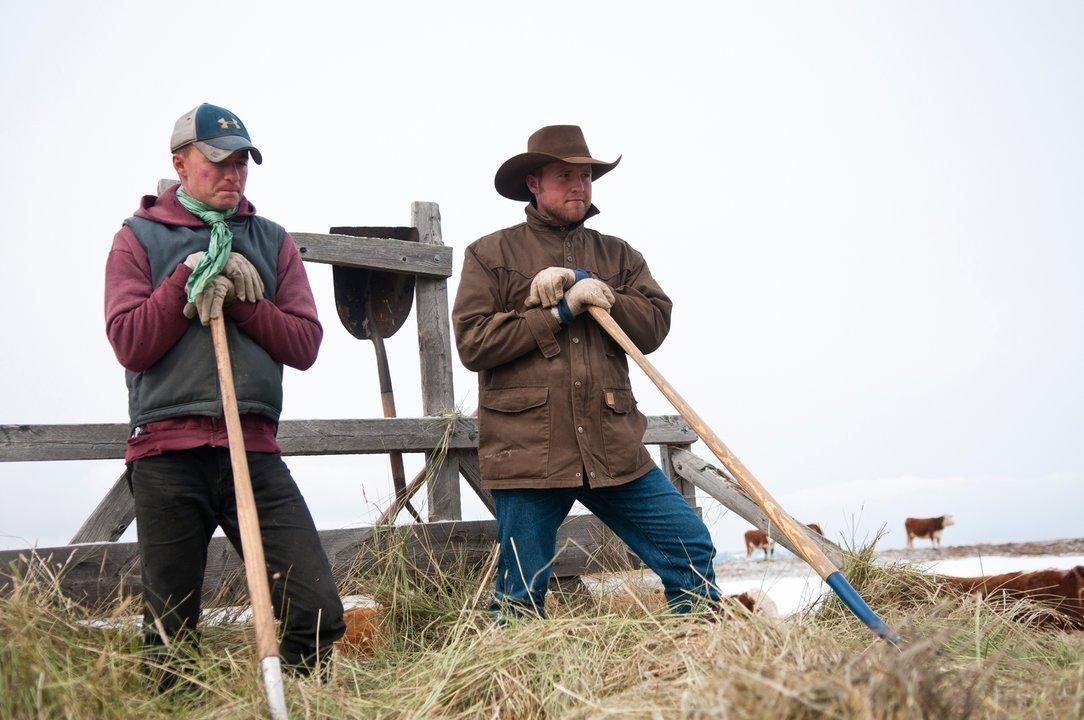 Credit: Carmen Daye Irish
Along with their father, Bill, the McIntosh sons Lou, 28, (left) and Gib, 24, feed 850 cattle during the winter months.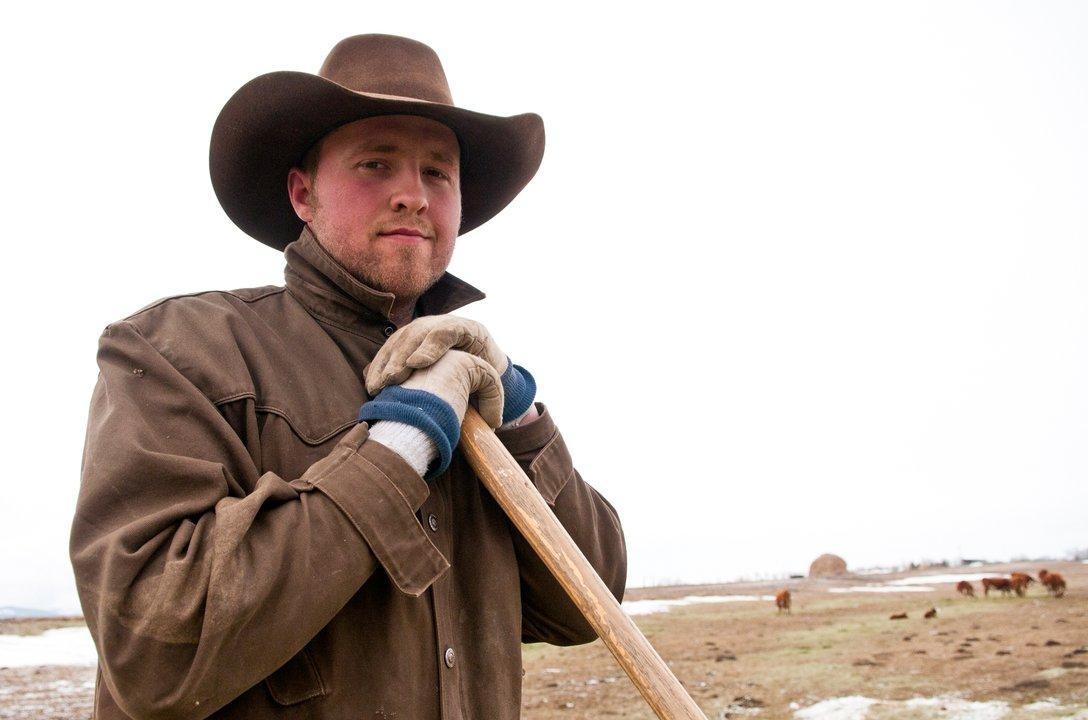 Credit: Carmen Daye Irish
Gib McIntosh, 24.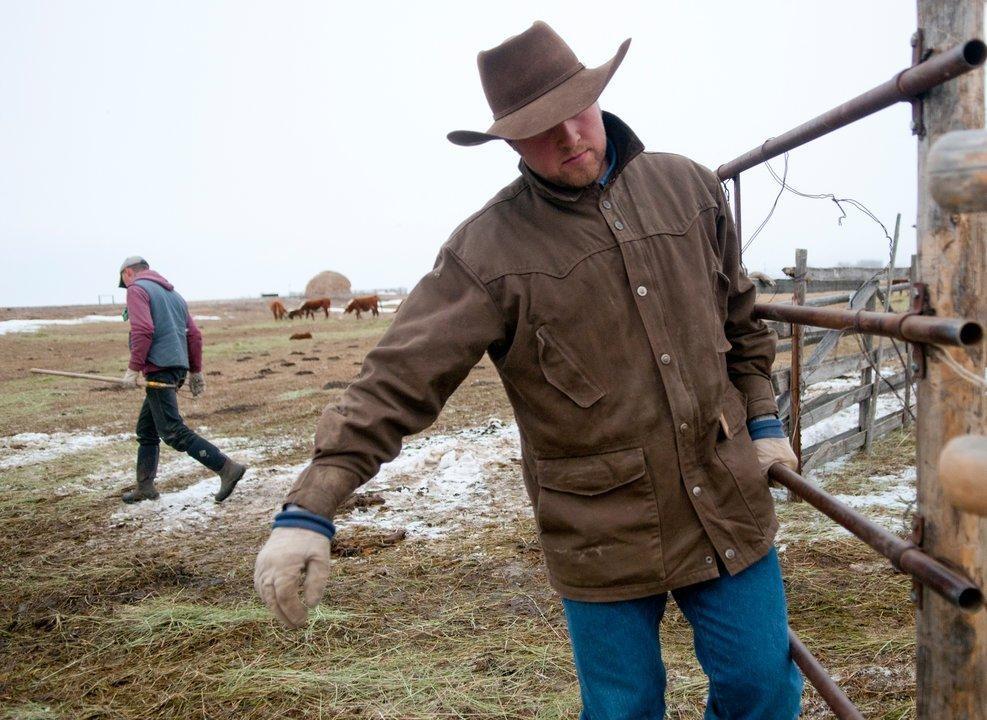 Credit: Carmen Daye Irish
Gib McIntosh, 24, closes the gate to a hay stack. The McIntsoh is one of the few ranches left that still stack loose hay with a beaverslide.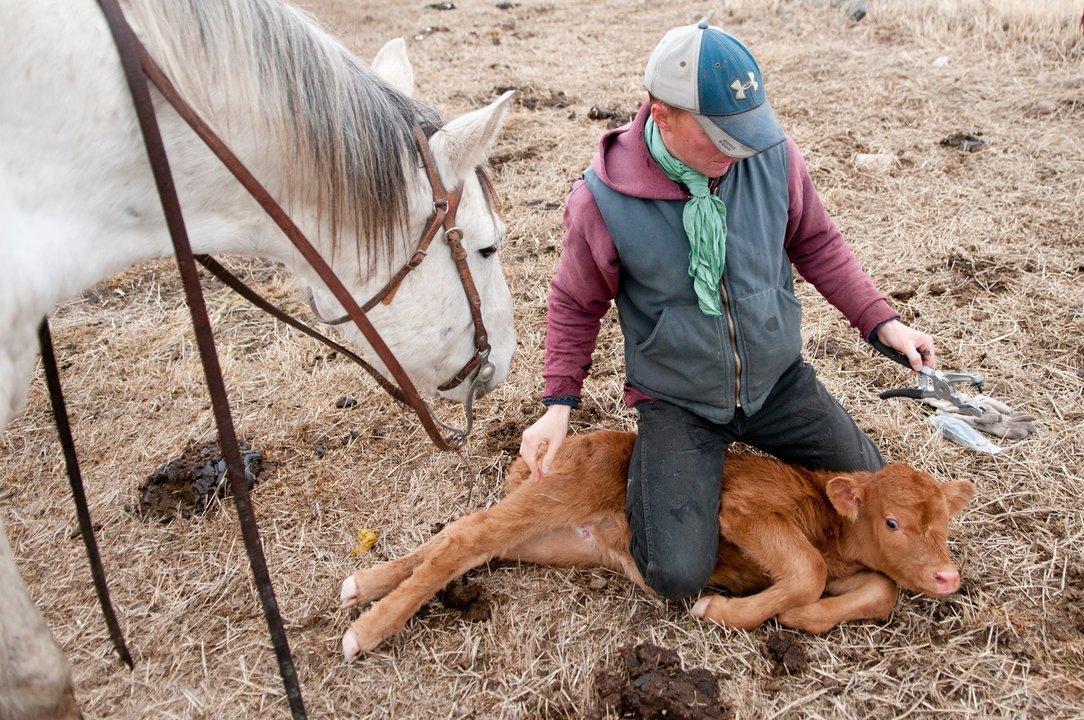 Credit: Carmen Daye Irish
Lou McIntosh, 28, prepares to ear-tag a calf.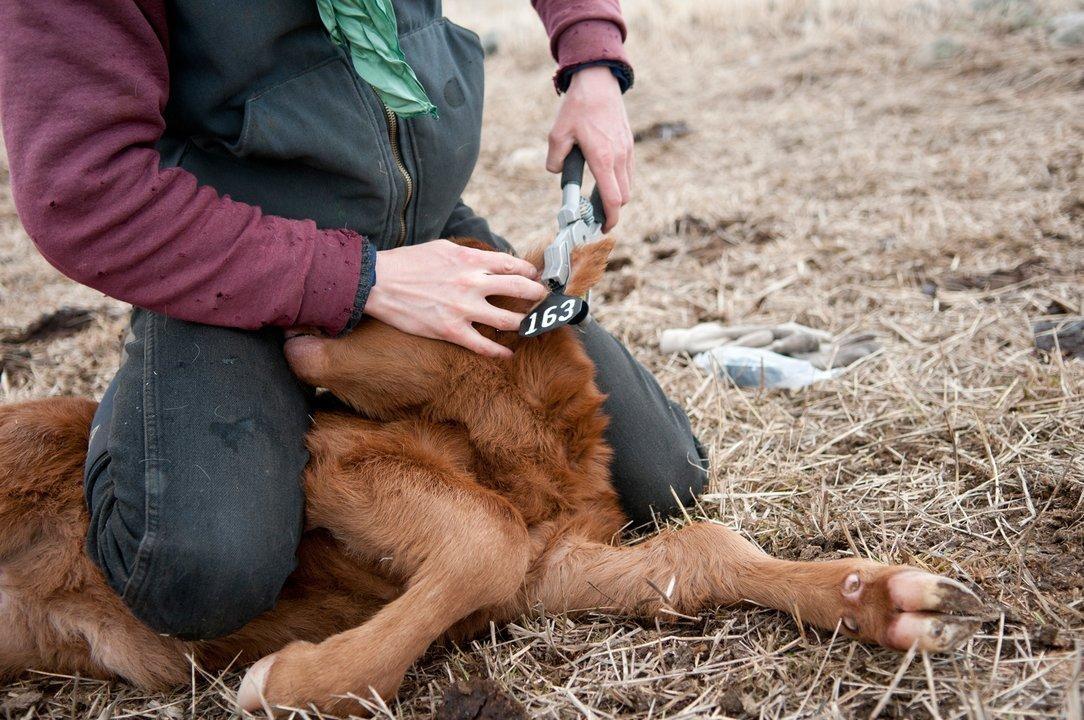 Credit: Carmen Daye Irish
Jill McIntosh helps rope a calf during an annual cattle round-up and branding.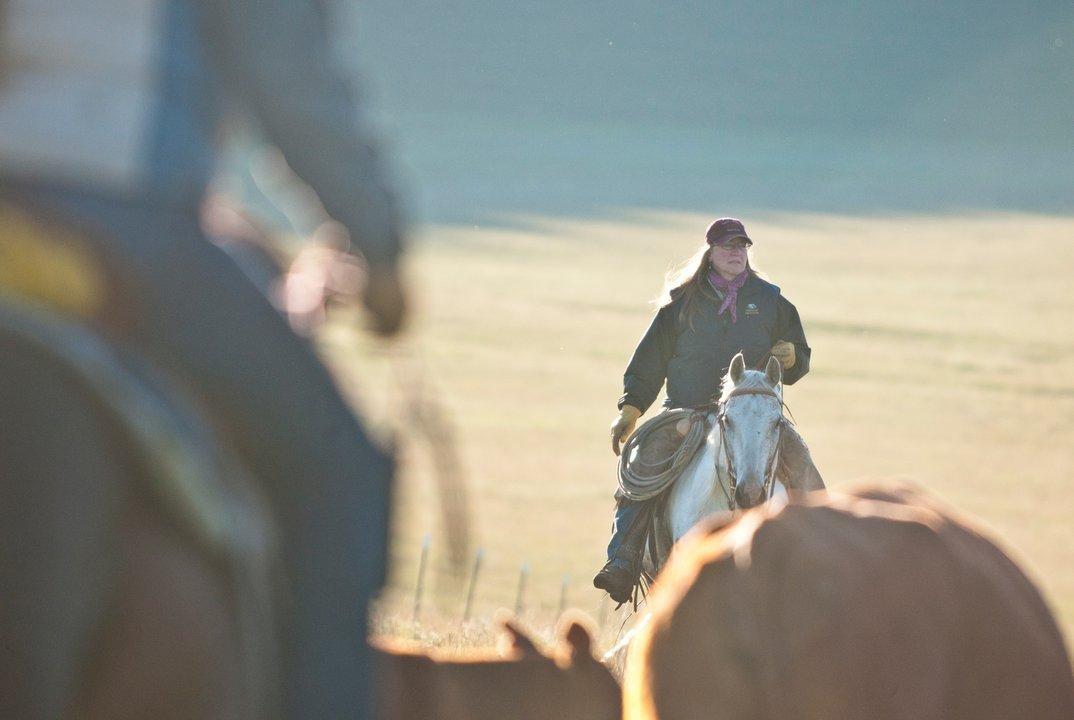 Credit: Carmen Daye Irish
Jill McIntosh moves cattle to the summer pasture up McDonald Pass.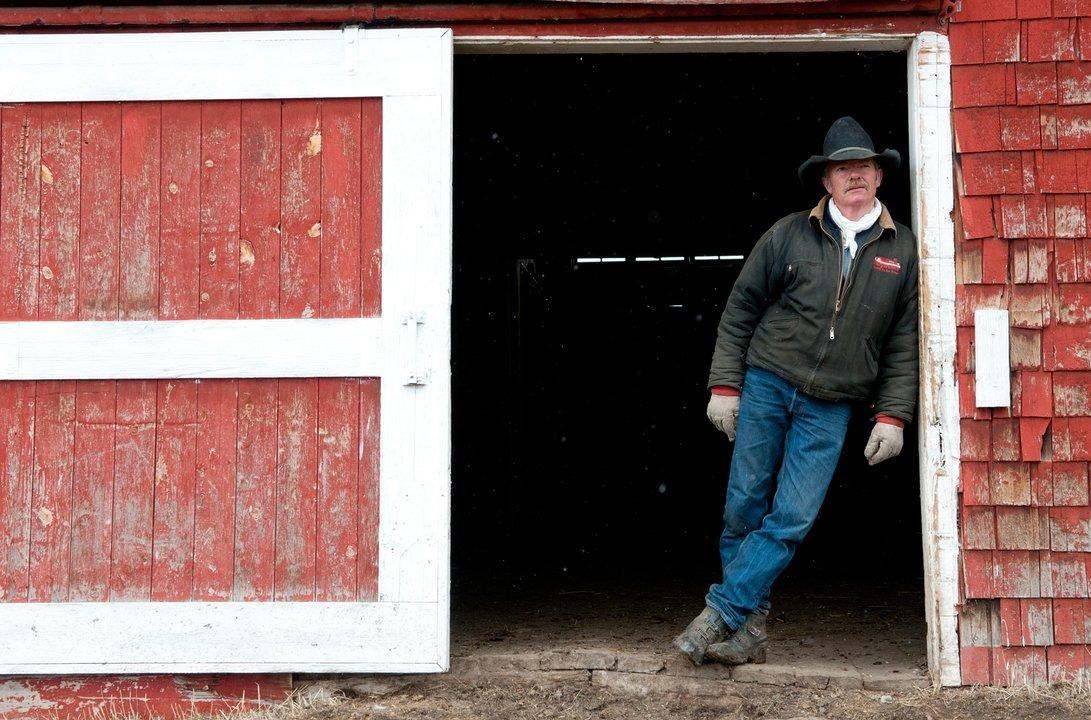 Credit: Carmen Daye Irish
Bill McIntosh stands in a century-old barn on the McIntosh Homestead. He is the fourth generation on the ranch.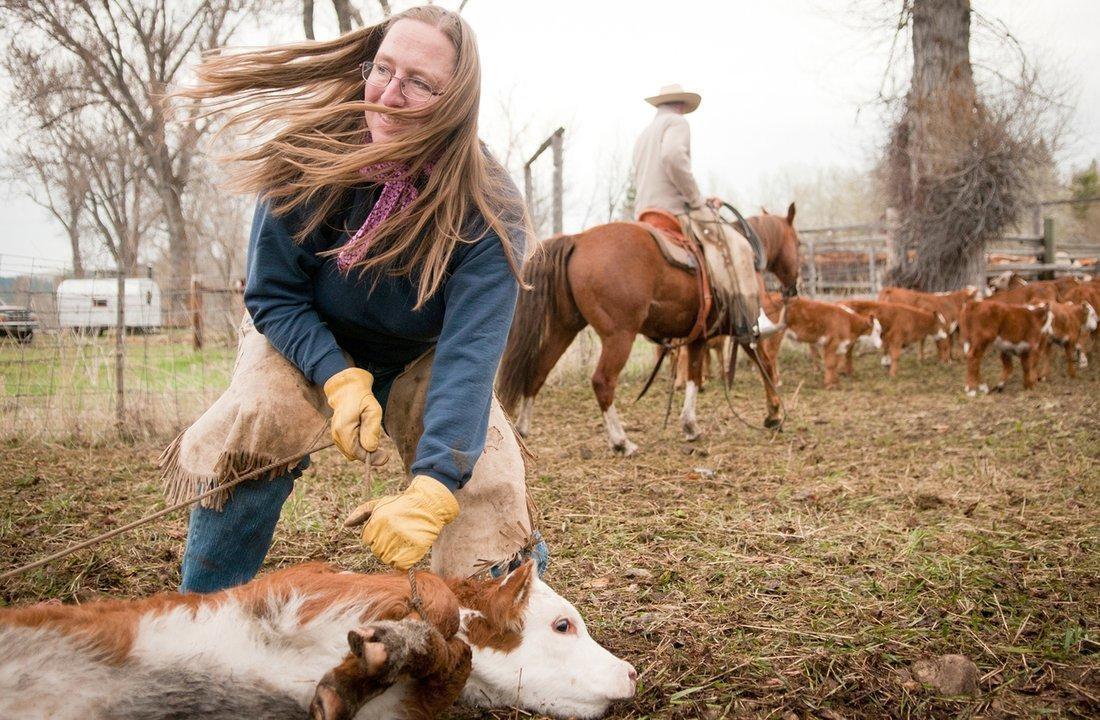 Credit: Carmen Daye Irish
Jill McIntosh helps rope a calf during an annual cattle round-up and branding.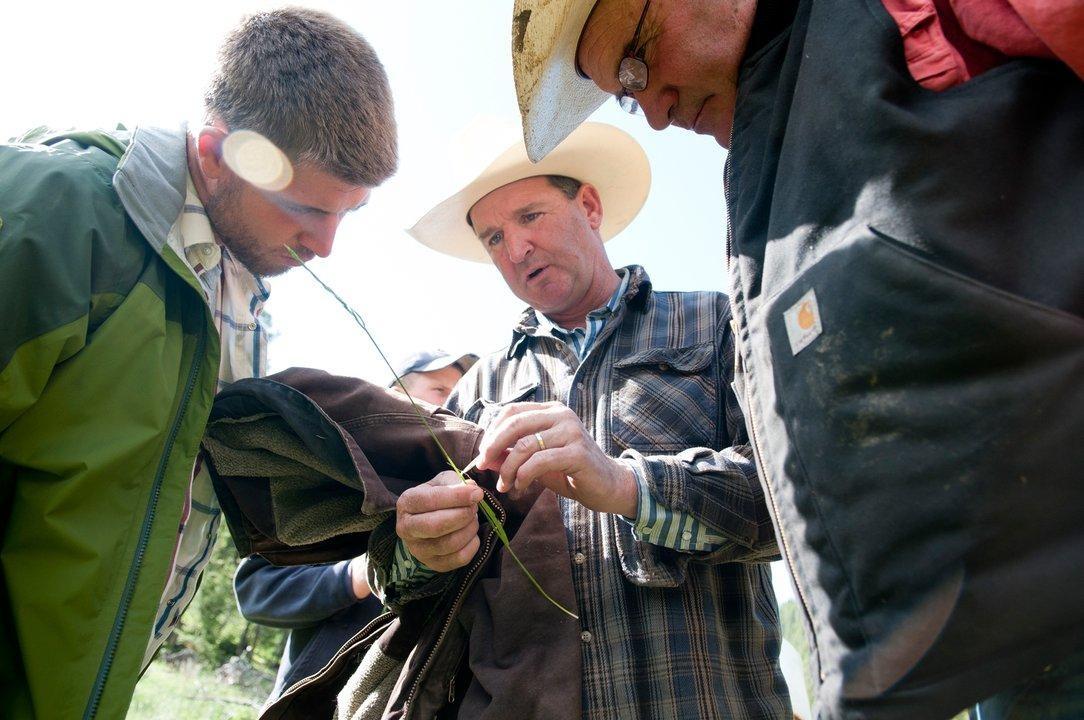 Credit: Carmen Daye Irish
Cole Mannix (left) and his uncle Randy and his father David talk about native grasses and noxious weeds in the Helmville area.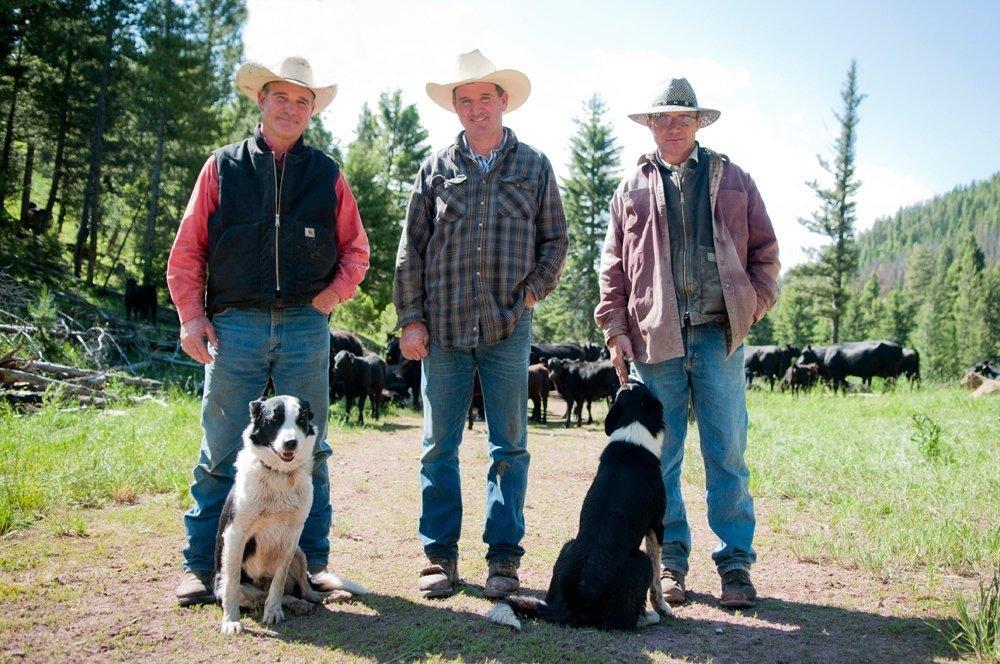 Credit: Carmen Daye Irish
Left to right, David, Randy and Brent Mannix. The brothers are the fourth generation to operate the Mannix Ranch.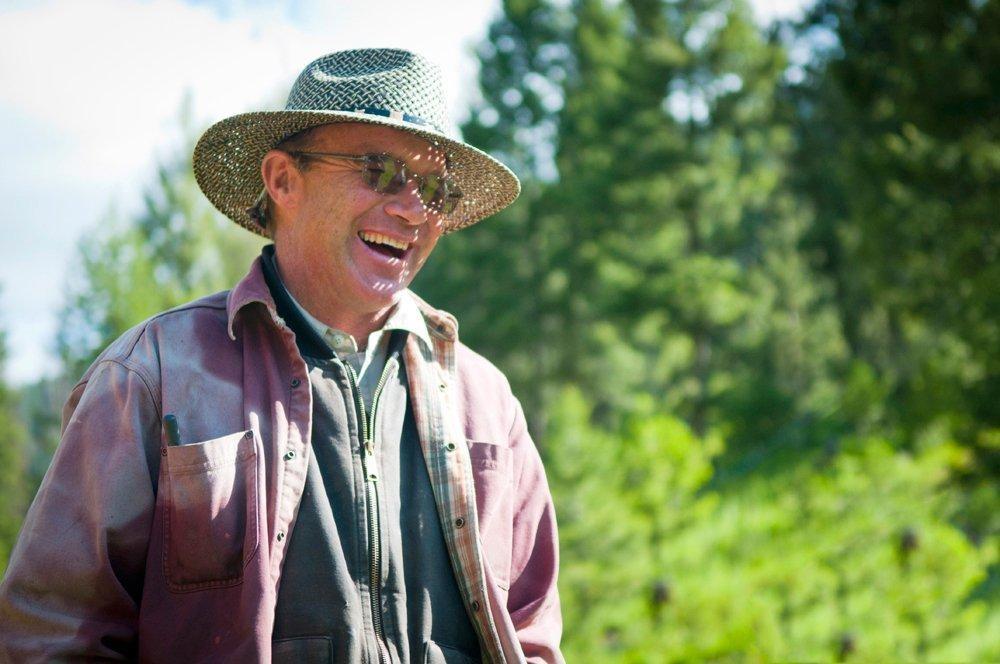 Credit: Carmen Daye Irish
Brent Mannix, the youngest of the Mannix brothers, is the fourth generation to operate the Mannix Ranch.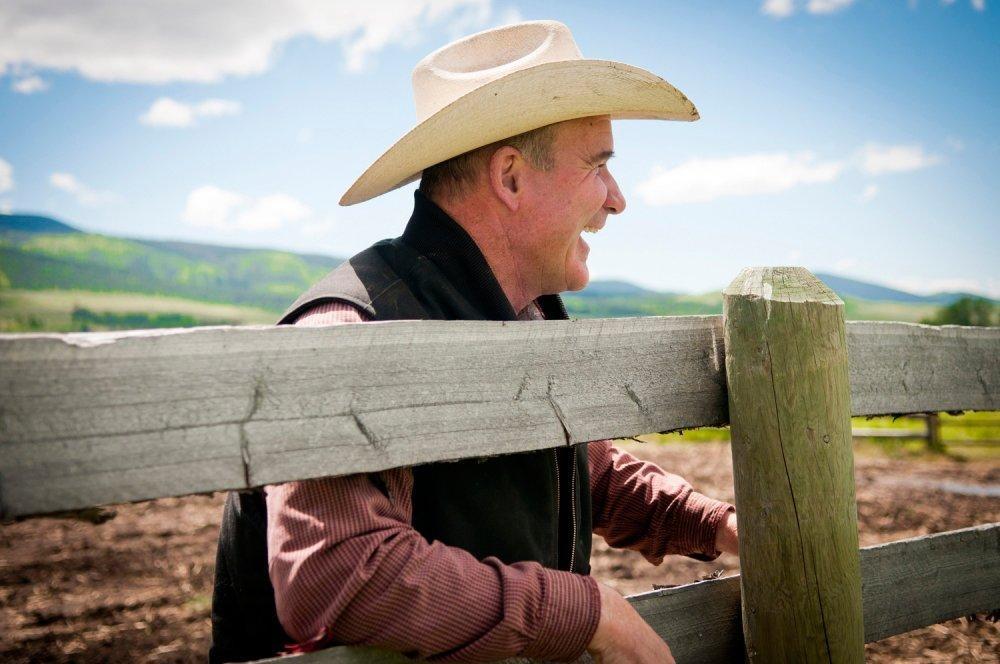 Credit: Carmen Daye Irish
David Mannix, the oldest of the Mannix brothers, isthe fourth generation to operate the Mannix Ranch.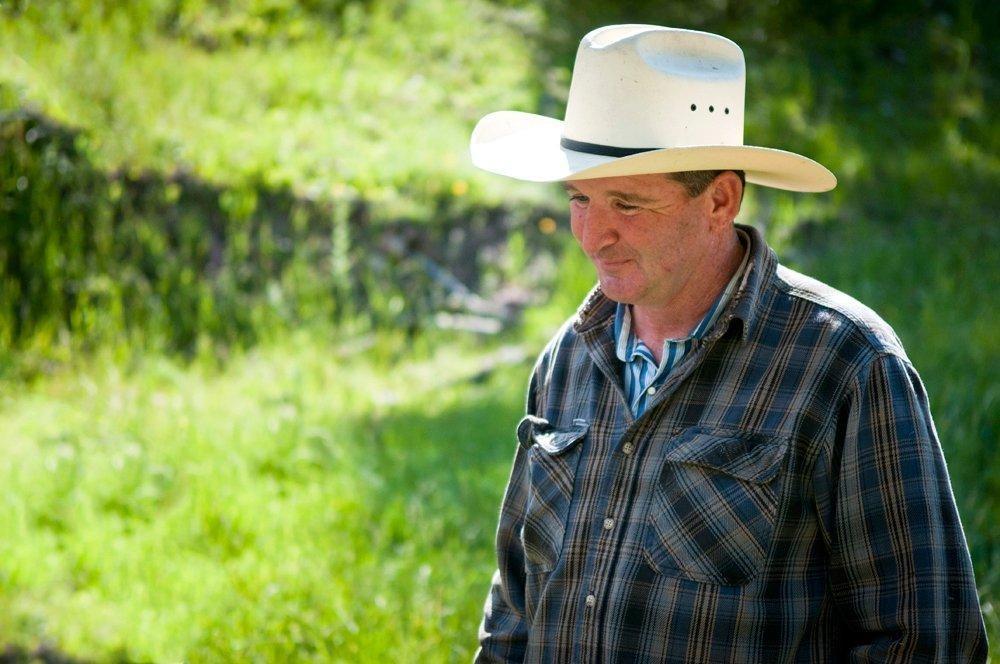 Credit: Carmen Daye Irish
Randy Mannix, the middle of the Mannix brothers, is the fourth generation to operate the Mannix Ranch.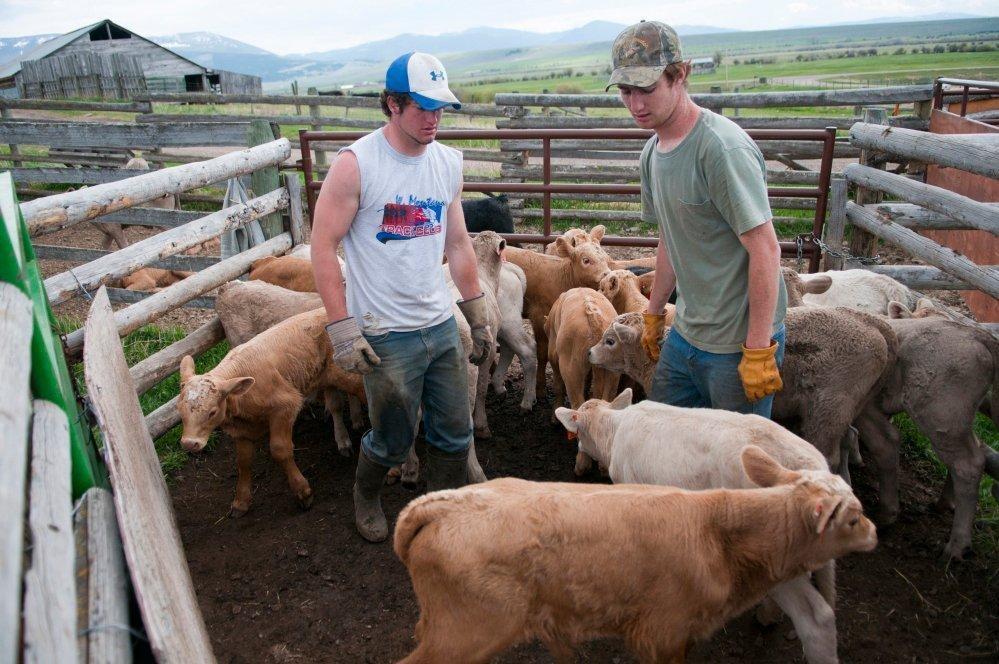 Credit: Carmen Daye Irish
Neil Mannix; left; and cousin Nathan Lyons help gather calves for branding.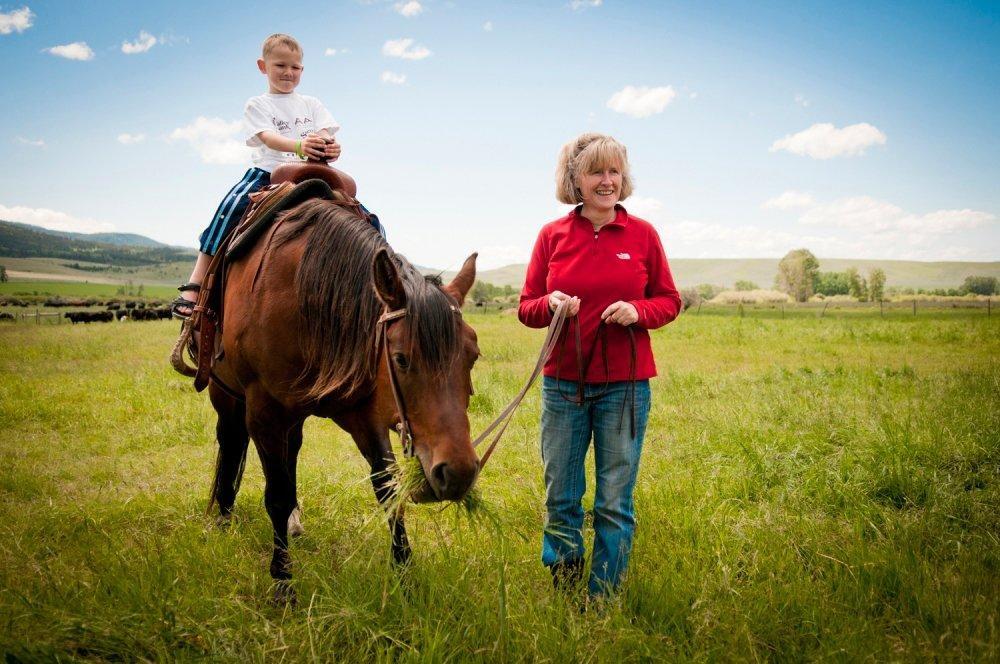 Credit: Carmen Daye Irish
David's wife, Peggy Mannix, gives Helmville-area kids and family members horse rides in the pasture next to their home.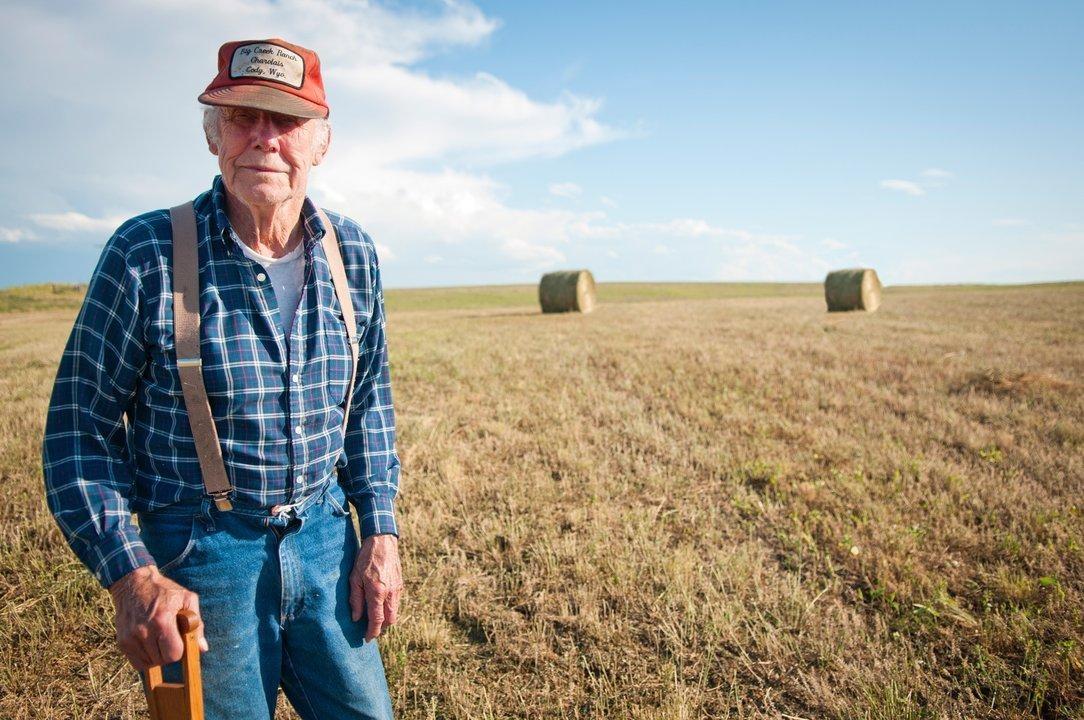 Credit: Carmen Daye Irish
Warren Willmore was born in Lewistown, Mont., in 1921. He is the second generation on his mother's homestead that was established in 1916.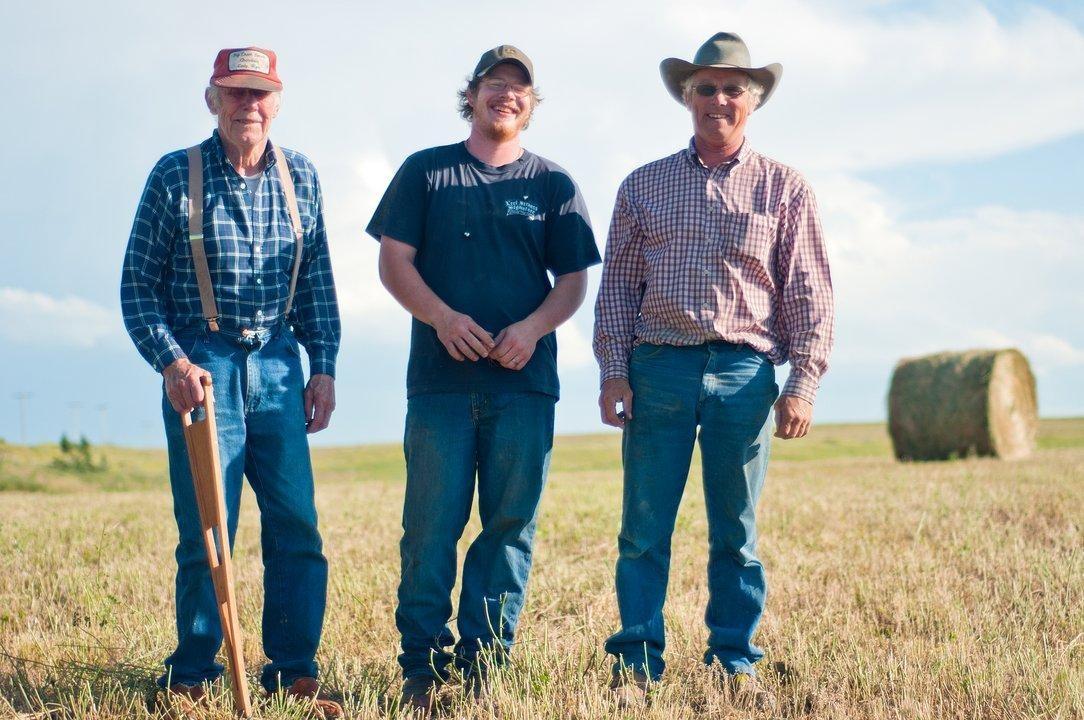 Credit: Carmen Daye Irish
Three generations of Willmores gather for a photo during Haying season.
Mannix Family, Helmville, MT:
The Mannix Family Ranch was homesteaded by Timothy Benjamin Mannix.
For five generations, the Mannix family, of Helmville, has tended the 160 acres their ancestor homesteaded in 1882. Today, the family has 12,000 deeded acres and leases another 30,000 acres to raise cattle.
Throughout the years, the Mannix Family Ranch has earned several stewardship awards for the care-taking of land, the land they and their ancestors have lived and worked on for over a century.
"It's very much an honor, and humbling, to be gifted the opportunity to be one of the caretakers of the land," David Mannix said. "To be one in the line of people who have helped sustain and evolve with it.
"The real soul of the ranch, and the soul of ranching, is tied to both the land and tied to the generations. There is a responsibility to pass it on better than you left it. This effort and opportunity to pass it along to future generations keeps us moving on."
Along with their wives, the three Mannix Brothers operate the fifth-generation cattle ranch. The brothers' parents, Bert and Darleen, still live on the ranch along with one of two sisters, Rene, who lives in the first house built on the homestead, the same house her father was born in.
McIntosh Family, Avon, MT:
The McIntosh Ranch was establish in 1892, but Bill McIntosh's great-great-grandmother, Eliza Bratton, came to the Avon Valley in 1866 by wagon train, and settled in Blackfoot City, a virgin gold mining camp just a few miles north of the McIntosh homestead.
It's been just over a century since Bill McIntosh's ancestors first hayed the fields of Avon Valley. The family remains among the few who still put up hay, stacked loose and high, with the help of machinery called a beaverslide.
Some say a man named Armitage invented the device in the early 1900s in Beaverhead County. Whatever its origins, the beaverslide offered a way ranchers could build stacks of loose hay that would last for years. It's a tradition the McIntosh family doesn't expect to replace anytime soon. The large old bread loaf- like haystacks are becoming a thing of the past. Even in the Big Hole Basin, once known as the Land of 10,000 Haystacks, there are only a few ranchers who continue to put up their hay crop in the old-fashioned way.
They also prefer to feed their cattle during the winter months with a team of horses and sleigh, a tradition the McIntosh's have done since first homesteading the land.
The McIntosh family has always had a soft spot for anything historical. They bought the old Mercantile Store building in Avon to ensure it wouldn't meet a wrecking ball. And they have the same sentiment for their family's homestead.
"Every time you lose a place like your land or that store, you get that much further away from what went on back then," Bill McIntosh said. "I hate to see it all disappear."
Willmore Family:
Louis C. "Curley" Willmore, came from Fessenden, North Dakota, to Roy, Montana, with his friend to claim a homestead in 1915. They came, not by wagon or train, but by car. They filed for homesteads, 18 miles northeast of Roy, on November 3, 1915.
Curley built a 10 x 10-foot homestead shack, dug a cellar to store food, and stayed that first winter.
Curley went into the Army in 1917 and served in the Signal Corps until he was injured in a logging accident that the Corps was involved in. Henry never returned to Montana following his discharge from the service and Martha received the homestead as part of their divorce settlement.
Curley married Martha Hanson, who had claimed an adjoining homestead to his years 1916. They were married in August of 1920.
Martha lived in a two-room homestead shack she and her first husband, Henry Martin Hanson, built in 1916. Henry went off to war in 1917, and never returned.
Martha stayed on the homestead. When her first crop of wheat was harvested with help of a neighbor, Martha used her bedroom for a granary and filled it full. The room was never in square afterwards.
She nursed several other homestead families through the flu epidemic and was fortunate enough to never become ill herself.
After Curly and Martha's marriage, they returned to the homesteads and started to build them into a ranch. They built fences and cleared sagebrush and rocks from the fields. They also worked off of their ranch, part time, helping to build the Bank Ranch irrigation system, near Lewistown.
With the birth of their son, Warren, on November 8, 1921, they settled permanently on the ranch. They acquired horses and 'a' cow. During the following years, they moved the Joslin Store and built it into a horse barn, moved in two good granaries and fixed a shop. They moved Martha's homestead shack from the top of the ridge down to the coulee, closer to water.
In 1939 the government, through the Bankhead Jones Act, offered $1280 to buy the homesteads. Curly asked Warren, age 18, what he thought about it. Warren said he could raise a few steers for that amount, so Warren came back to the ranch and has been on the homestead ever since.